GILSONITE AS DRILLING FLUID ADDITIVE
INTRODUCTION OF GILSONITE AS DRILLING FLUID ADDITIVE
Gilsonite as drilling fluid additive, is used as a high-temperature and high-pressure filtration control additive in drilling mud. This is the primary application for gilsonite in drilling fluid additive. This mineral may be utilized in any mud that is oil based and at any temperature. Additionally, blended gilsonite can be utilized successfully in water-based mud systems. Gilsonite powder is effective in lowering API and HPHT fluid loss (fluid loss control FLC) in oil-based muds. It is capable of stabilizing drilling mud and preventing the erosion of pits as a result. The emulsion stability, thermal stability, and suspension properties of the vast majority of oil-based formulations can all be significantly enhanced as a result. Gilsonite also decreases torque and drag, which is especially helpful at lower temperatures. This is owing to the fact that gilsonite is only partially soluble. In the interior of the wells, a thin yet sturdy wall is produced by mixing mud with gilsonite. Additionally, it is utilized in the regulation of lost circulation in drilling formations.
Petro Naft manufactures the highest quality Gilsonite in drilling fluids / Natural Asphalt in drilling fluids / Natural Bitumen in drilling fluids in different types and grades and exports them from Iran, Turkey, and the United Arab Emirates to other countries around the world.
Gilsonite Iran for drilling fluid additive / Natural Asphalt Iran for drilling fluid additive / Natural Bitumen Iran for drilling fluid additive
INSTRUCTIONS FOR UTILIZING GILSONITE IN DRILLING PROCESS
Gilsonite concentrations that are considered normal vary from 2 to 8 lb./bbl. (5.7 to 23 kg/m3), with occasional daily additions falling in the range of 0.25 to 0.5 lb./bbl. (0.71 to 1.43 kg/m3) Situations that include high temperatures and certain applications call for greater concentrations, which can reach as high as 10 lb./bbl. (29 kg/m3). It is advisable to include Gilsonite as the very last component during the first forming process. The product can be introduced at any time to systems that are already in place, and it should be blended gently for at least one full circulation. Always be careful to monitor the solids control equipment for many circulations before discarding any product. The gilsonite powder that is utilized in drilling mud has a particle size range of 45-75 microns, an ash content range of 5-10%, a softening point that ranges from 185-220 degrees Celsius, and a specific gravity range of 1.06 to 1.4.
THERE ARE SEVERAL BENEFITS TO EMPLOYING GILSONITE IN DRILLING SECTOR
The drilling industry can benefit in several ways from making use of gilsonite, including the following:
The outcome is a combination that has a low density, despite the fact that a significant amount of water was not added.
This material can be used with various additives and can withstand acidic, alkaline, and corrosive chemicals without being affected.
Large temperature range (higher softening point ranging from 175 to 235 degrees Celsius)
The dryness gives it some resistance to pressure, but it is still pliable enough to distort when subjected to it.
It does not clump owing to pressure
It is resistant to the dissolving effects of oil.
During the process of cementing the walls, it leads to the seams and cracks of the wells being sealed.
Prevent damage to drill bits
The process of refining the surfaces of drilling wells and getting rid of surplus drilling mud
Helps to bring down the overall weight of the drilling fluid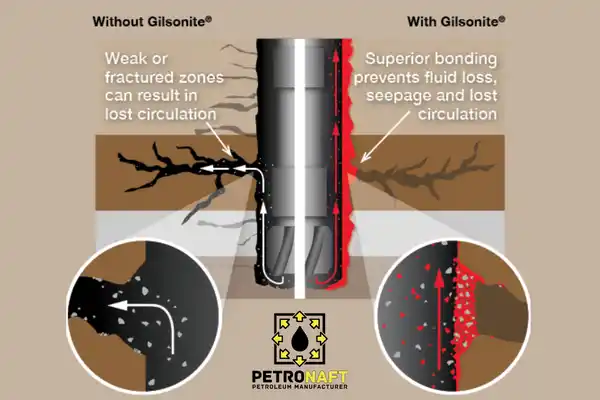 IMPLEMENTATION OF GILSONITE IN THE CIRCULATION OF LOST FLUID
Gilsonite can also be used as an additive for lost circulation control, which is a method for managing and avoiding the loss of drilling fluids. This use of the mineral is referred to as "lost circulation control." To elaborate further, During the drilling procedure, fluid will enter parts of the well that are loose or have lost their resistance as a result of pressure and circulation. These conditions can occur. The amount of fluid that is lost is proportional to the area of the region as well as the strength of the walls. Even this can be enough to cause the well to collapse, which will halt the operation. In this scenario, Gilsonite can be used to fortify the well by generating a thin coating, which also stops drilling fluids from leaking out. Gilsonite, when used as a supplement to drilling mud, will melt after it has entered the well because it will absorb the heat from the ground below. Gilsonite that has been melted possesses both lubricating and heat absorption properties, which allow it to lower the temperature of the drilling bit. The lubricating properties of gilsonite prevent the drilling bit from becoming stuck in the well as a result of the buildup of various materials and sediments.
GILSONITE PROTECTS AGAINST DAMAGE TO THE FORMATION
Gilsonite creates an effective seal by forming a link, both physically and chemically, with porous formations. This prevents drilling fluid from leaking through the seal. Gilsonite reduces fluid loss (fluid loss control FLC) and seepage, prevents lost circulation, and preserves reactive and low-reactive shale surfaces, even at increased bottomhole temperatures. It accomplishes these feats by its unusual ability to behave as both a pliable and solid plugging agent.
PROVEN TO IMPROVE THE WELLBORE'S STRUCTURAL INTEGRITY
In order to drill successfully in HP/HT wells, shales, and under pressured zones, specialist drilling fluids and wellbore-strengthening procedures are required. When Gilsonite is added to an OBM, SBM, or WBM, the well is strengthened in the following ways:
Shale and low-porosity sands can have their pore pressure transmission reduced while also having their micro-fractures sealed.
Preserving the integrity of the interbedding structures
Creating a filter cake that works effectively
A "smear effect" is created, which results in a continuous protective sealant along the wellbore wall.
THE ADDITIVE THAT IS THE MOST SUCCESSFUL IN AVOIDING STICKING OF THE DIFFERENTIAL
Gilsonite decreases the possibility that a pipe or logging instrument will get clogged by completely sealing permeable formations, even in zones with a significantly overbalanced pressure differential, and by improving the filter cake's lubricity.
HEALTH, SAFETY AND ENVIRONMENTAL ADVANTAGES
Significant positive effects on health can be associated with naturally occurring gilsonite.
Non-toxic (unlike coal or fly ash)
Non-carcinogenic
Non-mutagenic
Gilsonite is risk-free in all aspects of its use, including handling and storage.
ADVANTAGES IN TERMS OF COSTS THAT ARE SIGNIFICANT
When compared to competing goods, Gilsonite provides performance that is either on par with or even exceeds that of its competitors at a much-reduced price. Gilsonite's performance in water-based mud (WBM) applications compares favorably to that of sulfonated asphalts, but the cost of using Gilsonite is anywhere from 25 to 50 percent lower.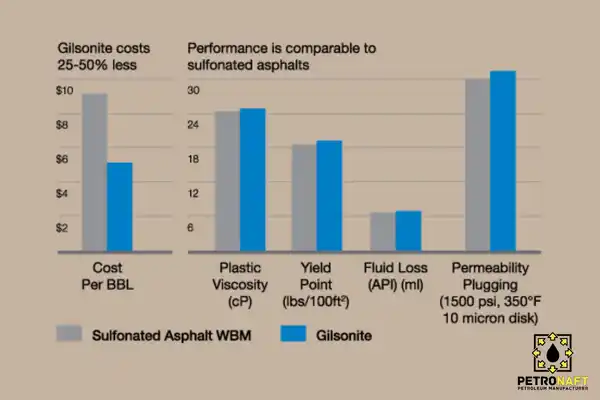 Gilsonite offers a cost savings of more than 80% when compared to premium co-polymer when used in HP/HT settings with synthetic-based mud (SBM). Additionally, due to Gilsonite's high softening point, there is a decrease of 45% in the amount of fluid loss (fluid loss control FLC) that occurs in these situations.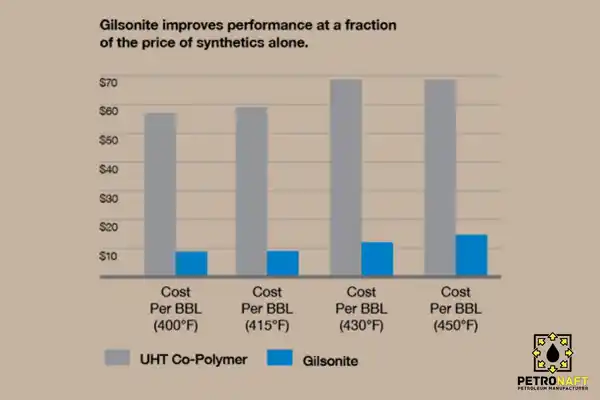 GILSONITE AS DRILLING FLUID ADDITIVE SPECIFICATION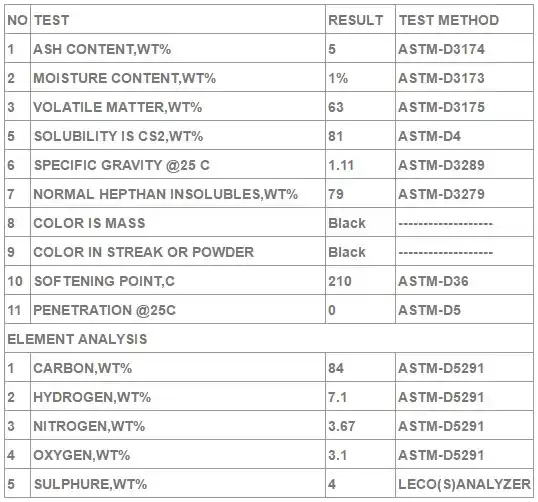 APPLICATIONS OF GILSONITE AS DRILLING FLUID ADDITIVE
Maintains fluid integrity while preventing leakage and evaporation
Provides support for the shale
halts the deterioration of circulation
Increases the wellbore's stability by providing additional reinforcement to the wellbore
Reduces the amount of differential sticking
Contributes to the creation of an efficient filter cake
Compatible with both oil-based and water-based drilling muds
It is effective in both high-pressure and high-temperature settings
Minimizes HSE hazards
IRAN GILSONITE FOR DRILLING FLUID ADDITIVE / IRAN NATURAL ASPHALT FOR DRILLING FLUID ADDITIVE / IRAN NATURAL BITUMEN FOR DRILLING FLUID ADDITIVE
The mines of western Iran (Ilam, Gilangharb, Eyvangharb, and Lorestan) are where the Petronaft Gilsonite Lump is mined, and then it is brought to the plant site to be stored there. Gilsonite lumps are poured into the hopper by the digger loader as they are broken up. After that, they are brought to the hammer mill by means of a strip conveyor. In this way, Gilsonite is divided into different grades based on the percentage of ash present and the desired size. The required tests are then completed, quality control is performed, and the product is packaged and ready to be exported in different types and grades from Iran, Turkey, and the UAE to other countries around the world.
At this time, PETRO NAFT is manufacturing a variety of grades of gilsonite, including the following:
Lump Gilsonite
Granulated Gilsonite
Micronized Gilsonite Powder
1- Gilsonite with ash content up to 5%, moisture up to 1% and meshes 30, 40, 100 to 300.
2- Gilsonite with ash content up to 10%, moisture up to 1% and meshes 30, 40, 100 to 300.
3- Gilsonite with ash content up to 15%, moisture up to 1% and meshes 30, 40, 100 to 300.
4- Gilsonite with ash content up to 20%, moisture up to 1% and meshes 30, 40, 100 to 300.
5- Gilsonite with ash content up to 25%, moisture up to 1% and meshes 30, 40, 100 to 300.
Understanding Global Gilsonite Prices: A Must-Read Comprehensive Guide for Better Comprehension
Understanding Iran's Gilsonite Price: A Must-Read Comprehensive Guide to Improve Your Knowledge
PACKING OF GILSONITE AS DRILLING FLUID ADDITIVE
Jumbo Bags-PP Bags- Multi paper Bag-Bulk on Vessel