PERFORMANCE GRADE BITUMEN
Introduction of PERFORMANCE GRADE BITUMEN
Performance grade bitumen (PG) is a kind of bitumen that is rated according to how it performs under certain performance conditions. This classification, which is based on an understanding of bitumen's behavior and functional characteristics, has been evaluated, and the appropriate bitumen types have been determined. These characteristics include resistance to deformations, resistance to cracking due to cold, resistance to cracking due to fatigue, and the ability to predict how bitumen will harden in an asphalt factory and when preparing the asphalt mixture, as well as how it will harden over time and in response to tests specified in the specifications.
Each kind of bitumen is identified by two positive and negative values, the positive number representing the median of the highest pavement temperature over the previous seven days and the negative number representing the lowest pavement temperature in degrees Celsius. For instance, a bitumen is created such that it may be utilized in environments with an average maximum temperature of 52 and a minimum temperature of -40 during the course of a week. Grading of Performance Since it is mostly used for paving, it should take into account the real circumstances of various paving projects, such as the strain relationship under the field load, traffic speed and volume, and the pavement structure. petro naft company produces and supplies different grades of this product.
WHAT IS PERFORMANCE GRADE BITUMEN?
Performance Grade (PG) bitumen is categorized based on its high-temperature performance. It resists deformation under high traffic, especially in hot areas.
The high-temperature grade of PG bitumen assesses its resistance to rutting and deformation at high temperatures, whereas the low-temperature grade measures its cracking and stiffness at low temperatures.
A sample of PG bitumen is rheologically tested at different temperatures and shear rates to establish its high-temperature grade. These experiments replicate bitumen stresses and strains under varying traffic and temperature conditions. The results of these tests establish the high-temperature grade, which is a number between 16 and 46, with higher values indicating greater performance at high temperatures.
The low-temperature grade of PG bitumen is established by testing a sample at low temperatures to detect stiffness and cracking resistance. The results of these tests establish the low-temperature grade, which is a number between -22°C and -76°C, with lower values indicating greater performance at low temperatures.
PG bitumen gives a more accurate and dependable technique to create asphalt pavements that can handle high traffic and harsh temperatures.
We manufacture the highest quality Performance Grade Bitumen / PG Bitumen in different types and grades and export them from Iran and the UAE to other countries around the world.
Iran Performance Grade Bitumen / Iran PG Bitumen
UAE Performance Grade Bitumen / UAE PG Bitumen
PERFORMANCE GRADE BITUMEN (PG) HISTORY
The Strategic Highway Research Program (SHRP) in the United States performed a Project between 1987 and 1993 to address the limitations of empirical systems after viscosity and penetration-based grading methods were demonstrated to be unsatisfactory. The major topics of this program were the improvement of performance and durability, as well as the safety of asphalt roads in the United States. This program examined the presentation of bitumen performance standards, and bitumen laboratory evaluation and measurement were implemented as a strategy to predict bitumen's long-term performance in asphalt. This program imitated real-world conditions in asphalt over a long period of time in order to enhance the performance of generated bitumen during testing and minimize failures such as rutting and cracking of asphalt at low temperatures or asphalt fatigue. This enables long-term forecasting of how bitumen in asphalt will behave or function. The ultimate result of a system for analyzing and projecting bitumen performance by reproducing laboratory settings to bitumen's actual environmental conditions is performance grade bitumen, or PG bitumen.
One of the project's outcomes was a performance-based binder specification based on a new set of tests. Grade for PG Bitumen is graded based on how well it behaves at different temperatures. Binders are classified as performance grade (PG) bitumen in the Super Pave grading system depending on how well they perform in very hot and cold regions. The primary goal of grading and selecting an asphalt binder is to ensure that it has the appropriate properties for the location in which it will be utilized. The PG asphalt binders are selected to correspond to the expected weather conditions, volume variations, and traffic speed. As a consequence, the PG technique includes a battery of tests to assess the physical properties of the binder, which are directly related to how well it performs during paving.
The Long-Term Pavement Performance (LTPP) has offered a controlled way for computing and determining the temperature of the pavement based on the temperature of the air above. This indicates the temperature range of the pavement, and the bitumen that works best under the particular conditions is selected. The ability of penetration grading and viscosity grading to properly define asphalt binder for use in Hot Mix Asphalt (HMA) pavement is limited. As a consequence, as part of the Superpave research, new specifications and binder tests were developed to more accurately and comprehensively determine the qualities of asphalt binders to be used in HMA pavements. The majority of these tests and criteria are designed to solve HMA pavement performance issues such as heat cracking, rutting, and fatigue cracking. The idea behind Superpave performance Grade (PG) Bitumen is that the attributes of an HMA asphalt binder should be appropriate for the situations in which it is employed. This considers aging difficulties as well as expected climatic conditions for asphalt binders, for example. As a result, the PG system employs a standard set of tests (similar to those used in penetration and viscosity grading systems), but it also requires that a specific asphalt binder pass these tests at specific temperatures that vary depending on the unique climatic conditions in the area of application. Although the concept is not new, the Superpave PG method generates more complete and accurate connections between asphalt binder characteristics and application situations.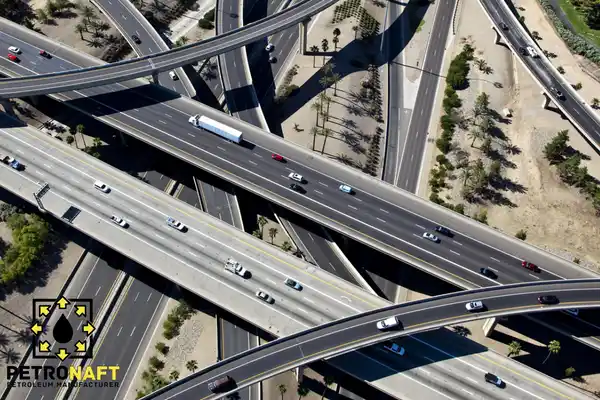 PERFORMANCE GRADE (PG) BITUMEN NOMENCLATURE
The traffic volume and pavement temperature are used to classify Performance Grade (PG) bitumen. In order to extend the life of the pavement and improve its quality, the modification and monitoring carried out here are intended to replicate environmental factors and traffic levels. Two figures that indicate the pavement temperatures serve as the basis for the PG grading system. The first number, for instance, "PG 64-XX," stands for the greatest pavement temperature in Celsius, while the second number, for instance, "PG XX-22," stands for the lowest. Just keep in mind that these are pavement temperatures, not air temps (these pavement temperatures are derived from air temperatures using an algorithm included in the LTPP Bind program). The consequences of rutting are tied to high temperatures, whereas fatigue cracking is associated to low temperatures.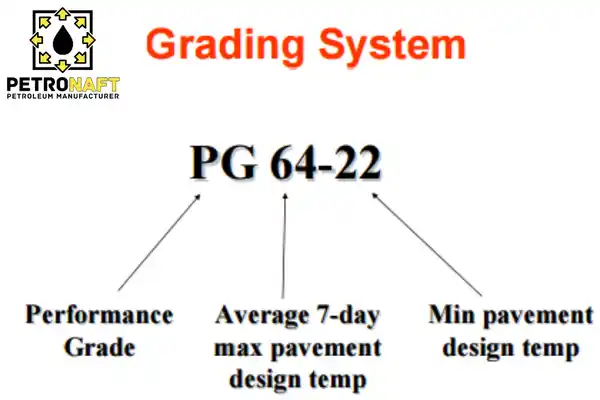 THE RAW MATERIAL FOR THE PRODUCTION OF PERFORMANCE GRADE BITUMEN ACCORDING TO THE TEMPERATURE: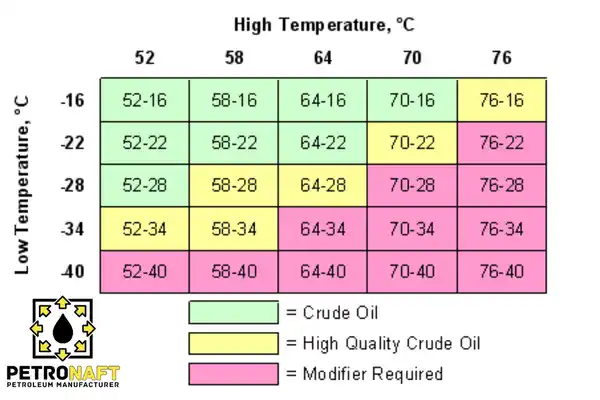 PERFORMANCE GRADE (PG) BITUMEN ADVANTAGES
One of the main advantages of performance grade bitumen is that it enhances pavement performance. By using PG bitumen in asphalt mixtures, roadways and other infrastructure can last longer and require less frequent maintenance. This is because performance grade bitumen is designed to resist deformation at high temperatures and cracking at low temperatures, which are two of the main causes of pavement distress.
Performance Grade Bitumen can also improve safety on roadways and airport runways. The binder's high-temperature resistance helps prevent rutting and shoving, which can cause accidents by reducing skid resistance and creating uneven surfaces. Meanwhile, its low-temperature resistance helps prevent cracking, which can cause tire damage and reduce driver comfort.
Performance Grade Bitumen can contribute to a more sustainable infrastructure by reducing the need for frequent maintenance and repair. This can result in fewer resources being used for repairs, less waste being generated, and less disruption to traffic. Additionally, Performance Grade Bitumen can be produced using recycled materials, further reducing its environmental impact.
PG bitumen is highly versatile and can be used in a variety of applications, including roadways, airport runways, parking lots, and industrial pavements. Its performance can be tailored to specific climate conditions and traffic loads, making it a versatile option for a wide range of infrastructure needs.
Although Performance Grade Bitumen may initially cost more than traditional bitumen, it can be a cost-effective option in the long run due to its improved durability and reduced need for maintenance. By reducing the frequency of repairs and extending the lifespan of infrastructure, PG bitumen can save money over time.
Limitations of Penetration, AC and AR Grading Systems
Superpave Binder Testing and Specification Features that Address Prior Limitations
Penetration and ductility tests are empirical and not directly related to HMA pavement performance.
The physical properties measured are directly related to field performance by engineering principles.
The range of pavement temperatures at any one site is not adequately covered. For example, there is no test method
Test criteria remain constant, however, the temperature at which the criteria must be met changes in consideration of the binder grade selected for the prevalent climatic conditions.
Test methods only consider short-term asphalt binder aging (thin film oven test) although long-term aging is a significant factor in fatigue cracking and low temperature cracking.
The entire range of pavement temperatures experienced at a particular site is covered.
Asphalt binders can have significantly different characteristics within the same grading category.
Three critical binder ages are simulated and tested:
1. Original asphalt binder prior to mixing with aggregate.
2. Aged asphalt binder after HMA production and construction.
3. Long-term aged binder.
Asphalt binders can have significantly different characteristics within the same grading category.
Grading is more precise and there is less overlap between grades.
Modified asphalt binders are not suited for these grading systems
Tests and specifications are intended for asphalt "binders" to include both modified and unmodified asphalt cement
PERFORMANCE GRADED ASPHALT BINDER SPECIFICATIONS: (To view the tables in full screen mode, click on them. )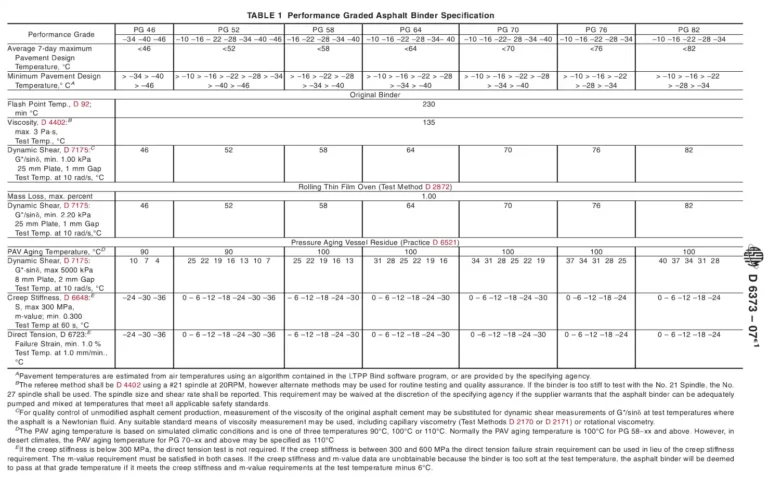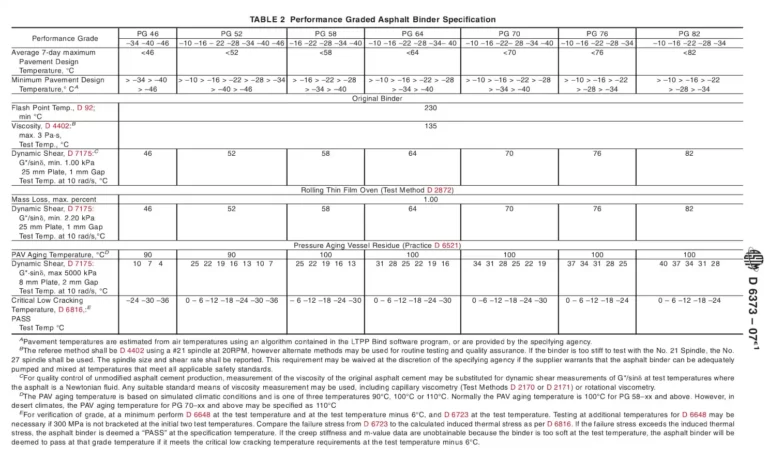 PERFORMANCE GRADE BITUMEN APPLICATIONS
PG 52-28 is often used in new construction and road maintenance paving, as well as dense-graded and open-graded Hot Mix Asphalt (HMA). This solution might also be used to seal cracks in paving as well as the margins of the paving. Membrane spraying in areas like bridge decks and pavement protecting membranes is another use.
PG 58-22 is utilized in dense-graded and open-graded Hot Mix Asphalt (HMA) paving, as well as road construction, spraying, and crack sealing applications.
PG58-28 is utilized in dense-graded and open-graded Hot Mix Asphalt (HMA) paving, as well as road construction, spraying, and crack sealing applications. This grade is often used in very cold climates.
PG 58-34 is often utilized on higher elevation roads. This grade is a paving asphalt cement that is primarily utilized in the manufacture of Hot Mix Asphalt (HMA). It might also be used to seal the margins of new to old paving and to fill cracks.
PG58-40 is generally employed in high elevation areas. This grade is paving asphalt used in the manufacture of Hot Mix Asphalt (HMA). It is simply utilized for crack treatment as well as sealing.
PG 64-22 is primarily utilized in paving for new construction and pavement treatment projects, as well as in dense-graded and open-graded Hot Mix Asphalt (HMA) and other applications. It is suitable for sealing as well as crack treatment. Spray treatments for bridge decks and pavement protection layers with textiles and other changes are also possible. It has been observed that, with suitable aggregate selection and asphalt composition, HMA using PG 64-22 as the binder may exhibit less tenderness than a comparable combination with a lower viscosity/softer asphalt. This will result in a large decrease in the normal soreness issues of mixture pushing and checking during pavement surface scuffing and rolling, as well as traffic markings soon after paving.
PG64-28 is largely utilized in road construction and paving for new and pave maintenance projects, as well as in dense-graded and open-graded HMA. Spray treatments for bridge decks and pavement protecting layers with textiles are two further applications. PG64-28 is often employed in low-elevation environments.
PG70-22 is generally employed in high-traffic areas and is also the paving asphalt cement used in the manufacture of Hot Mix Asphalt (HMA). This grade is also suitable for pavement edge sealing and crack sealing.
The greatest PG grades for thermal cracking resistance: PG 64-22, PG 76-22, PG 64-28, PG 58-34
PG Grades with the best rutting resistance: PG 82-22, PG 76-28, PG 70-28, PG 76-22
This is common on toll roads (high Volume): PG 64-22
Typical in toll booths (high volume and slow traffic): PG 70-22
Typical in rest areas (high volume and standing traffic): PG 76-22
Petro Naft produces Performance Grade Bitumen / PG Bitumen of the best quality in a variety of types and grades and exports them from Iran and the United Arab Emirates to other nations worldwide.
Performance Grade Bitumen Iran / PG Bitumen Iran
Performance Grade Bitumen Emirates / PG Bitumen Emirates
PERFORMANCE GRADE BITUMEN Packing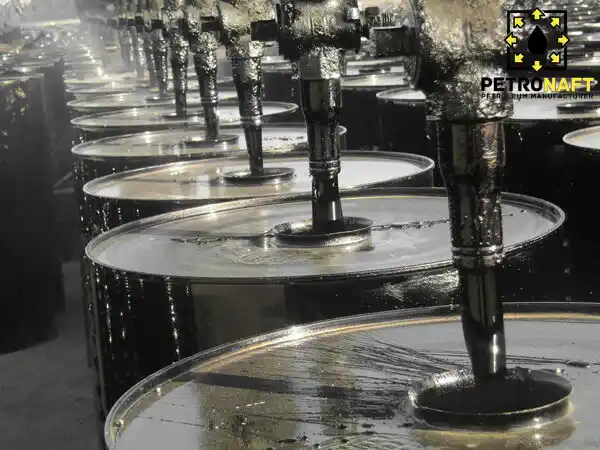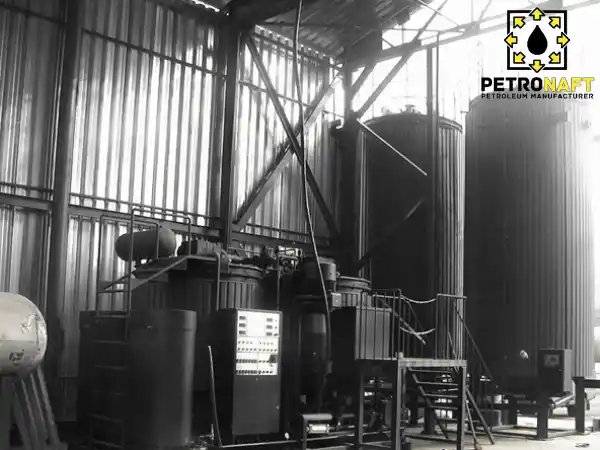 Frequently Asked Questions About PERFORMANCE GRADE BITUMEN