INTRODUCTION of POLYMER MODIFIED BITUMEN
Polymer modified bitumen, also known as PMB, is one of the grades of bitumen that has been specifically developed and engineered. It is one of the bitumen grades that is used in the production of pavement, roads designed for heavy duty traffic, and roofing solutions for residential properties that can withstand extreme weather conditions. PMB is conventional bitumen that has had polymer added to it. This addition provides PMB with additional strength, high cohesiveness, and resistance to fatigue, stripping, and deformations, making it an ideal material for use in the construction of infrastructure. The formation of a polymer really results in the formation of a macromolecule via the combining of thousands of monomers (repeating units). Carbon and hydrogen are the fundamental building blocks of many different types of polymers. Long polymer chains may be made by connecting many carbon atoms to one another. 
WHAT IS POLYMER MODIFIED BITUMEN?
Polymer Modified Bitumen (PMB) has polymer additions to improve its characteristics. Bitumen, a thick, black, sticky substance produced from crude oil distillation, is used to bond roads.
The addition of polymers to bitumen modifies its physical and chemical characteristics, making it more robust, resilient, and resistant to temperature fluctuations, rutting, cracking, and aging. PMB is utilized in road building, roofing, waterproofing, and other civil engineering applications.
Styrene-butadiene-styrene (SBS), styrene-butadiene rubber (SBR), ethylene-vinyl acetate (EVA), and polyethylene may change bitumen (PE). Polymer choice relies on PMB characteristics and application.
Polymers increase performance and endurance to bitumen, making it a desirable building material.
Petro Naft manufactures the highest quality Polymer Modified Bitumen PMB in different types and grades and exports them from Iran and the UAE to other countries around the world.
Iran Polymer Modified Bitumen ( Iran PMB )
UAE Polymer Modified Bitumen (UAE PMB)
POLYMER MODIFIED BITUMEN (PMB) GRADES MOST COMMONLY USED 
PMB 40/60: This grade of PMB is a polymer modified bitumen with a penetration grade of 40/60. It is typically used for paving applications in areas with moderate traffic.

PMB 70/10: This grade of PMB has a penetration grade of 70/10 and is typically used for paving applications in areas with heavy traffic.

PMB 120/30: This grade of PMB has a penetration grade of 120/30 and is typically used for roofing applications and other areas where high flexibility and durability are required.

PMB 160/40: This grade of PMB has a penetration grade of 160/40 and is typically used for heavy-duty applications, such as airport runways and industrial flooring.

PMB 200/60: This grade of PMB has a penetration grade of 200/60 and is typically used for very heavy-duty applications, such as bridge decks and high-speed motorways.
It's important to note that the specific grades of PMB used in road construction can vary depending on factors such as climate conditions, traffic volumes, and the specific requirements of a given project. The selection of the appropriate PMB grade is based on the expected temperature extremes that the pavement will experience over its design life.
THE BEST WAY TO CLASSIFY POLYMERS IS BY THEIR APPLICATION AND TEMPERATURE BEHAVIOR
There are many different ways to classify polymers, including whether they are natural or synthetic, the type of arrangement of monomers, the arrangement of chains, and the method of polymerization. However, from the perspective of the scientific community, the classification of polymers that is most useful is based on how they behave in terms of their applications and temperatures, and this classification is broken down into three subgroups:
Thermoplastic
Thermoset
Elastomer
Thermoplastics:
These types of polymers are softened by heat and melted by heat and can take the shape of the mold, and by removing the cooled heat, they turn into a solid state, and this cycle can be repeated several times without changing the properties of the polymer. be repeated Polypropylene (PP), polyethylene (PE) and polystyrene (PS) are part of this category.
Thermosets:
These are semi-solid polymers that harden due to the application of heat and are no longer soft and meltable, and are destroyed and lose their properties when heated continuously. In fact, if we examine the intermolecular force of these two groups of polymers, thermoplastics have a weak intermolecular force that can change the shape of the polymer by heating, but thermoset polymers have strong crosslinks that allow shaping and reprocessing. They do not exist. Polyester, polyurethane, resins and silicones are examples of this group.
Elastomers:
The name elastomer is derived from the combination of two words, elastic polymer. Elastic means to be elastic, which means that when a force or stress is applied to elastomers, they first change their shape, and when the stress is removed, they rearrange their chains and return to their original state. One of the main features of these materials is having a very low glass transition temperature. That is, these materials are soft at low temperatures. (It should be noted that polymers are very hard and brittle below their glass transition temperature). All kinds of rubbers, including butadiene rubber, natural rubber, are members of this group.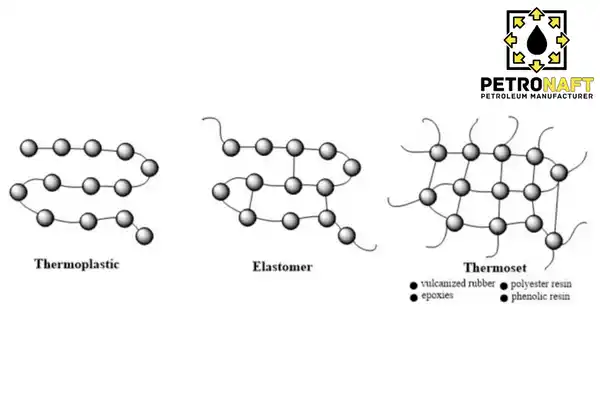 Thermoplastic elastomers are another kind of polymer:
In addition to thermoplastic polymers and elastomer polymers, there is also a category of polymers known as thermoplastic elastomers. These thermoplastic elastomers are created by combining two different types of polymers. This is due to the fact that the beneficial characteristics of both groups are combined, resulting in the formation of a copolymer that is capable of making use of the primary and functional characteristics of both groups. For instance, elastomers are unable to melt and would be destroyed if heat is repeatedly applied, but thermoplastics have both the capacity to melt and the property of being plastic. Polyurethane, polyether-polyester copolymer, olefinic copolymer, and styrene block copolymers are the four primary categories of thermoplastic elastomers. Polyurethane is the most common kind. The findings of the final group have shown to be the most successful when combined with bitumen. In a nutshell, the thermoplastic nature of TPE polymers, in addition to their low viscosity at high temperature and their capacity to open up in bitumen, as well as many other important characteristics, have led to this polymer being recognized as the most effective modifier of the properties of bitumen. For instance, the styrene component of SBS polymer, which is a styrene-butadiene-styrene block copolymer and is an elastomer thermoplastic, is of the thermoplastic kind, while the butadiene component is of the elastomer variety.
The temperature at which butadiene rubber (PB) undergoes its glass transition is -70 degrees Celsius, but the temperature at which polystyrene undergoes its glass transition or softening temperature is 100 degrees Celsius. The thermal stability of this material is improved by combining these two polymers, which allows for a wider temperature range at which it can maintain its integrity. The usefulness of using SBS polymer to generate modified polymer bitumen has been shown, making it one of the best polymers, if not the greatest polymer, employed in the industry that produces bitumen and asphalt. Because a portion of it is composed of rubbers, which, thanks to their very low glass transition temperature, increase the performance of bitumen when exposed to low temperatures and throughout the winter.
Other polymers used:
One of the polymers that has garnered attention in the bitumen and asphalt sector nowadays is polyphosphoric acid. Another one of these polymers is polyethylene glycol. The combination of polyphosphoric acid and bitumen has been the subject of a significant amount of penetration, and the findings have revealed that even a minute quantity of this polymer can boost the softening point of bitumen by ten degrees and reduce the degree to which it can be penetrated by five degrees. Additionally, polyphosphoric acid may be used as a bitumen compatibilizer when combined with other polymers such as rubber powder; however, it is essential to keep in mind that a high-speed mixer is required for this process.
POLYMER MODIFIED BITUMEN ADVANTAGES
Because the temperature at which bitumen breaks is approximately -10 to -12 degrees, the use of bitumen in areas where the temperature drops below -12 degrees during the winter will cause the bitumen to break and create cracks on the asphalt surface. This is due to the fact that bitumen is both hard and fragile. Because of the usage of rubbers, the temperature at which asphalt will break may be lowered to as low as -30 degrees or even lower. This lowers the temperature at which cracks and other types of asphalt damage can occur during the winter. On the other hand, the addition of this polymer to bitumen causes a rise in the viscosity of the bitumen and a rise in the temperature at which it begins to soften at high temperatures and hot conditions. This helps to prevent the bitumen from becoming loose and rutting in asphalt. In point of fact, one of the reasons why bitumen and asphalt are modified with polymers is in order to make the roadway surface more durable in a variety of climates.
Normal bitumens develop fatigue cracks in a very short amount of time on roads that have a high traffic load; however, the usage of polymer-modified bitumen and asphalt enables us to have longer periods of time. For there to be no cracks in the asphalt and for the coating to be in good condition. Because of this, it is not necessary to apply protective asphalts while stamping and sealing the asphalt surface, which results in savings in both money and energy. When thermoplastics like polyethylene or polypropylene, which are examples of thermoplastics, are added to bitumen, the characteristics of the bitumen are improved, and the result is a higher softening point and a lower degree of penetration. Additionally, this component raises the high temperature at which PG or performance grade bitumen can be used, which results in improved performance of bitumen in tropical regions. However, the findings of the study and the experiments have shown that the use of polyethylene leads in the bitumen being more brittle at lower temperatures. It is important to keep in mind that the use of polyethylene polymer in colder places not only does not result in an improvement in the qualities of bitumen, but it actually degrades the substance.
In general, depending on the kind of polymer, bitumen may take on a variety of characteristics, and here are a few of those characteristics that we will mention:
1- Raising the bitumen's soft point, which prevents asphalt from being rutted during the summer and when temperatures are high.
2- Lessening the degree to which the bitumen penetrates the asphalt, which stops moisture from getting into the asphalt infrastructure when it rains.
3- Raising the elasticity or reversibility of bitumen, which raises the bitumen's resistance against permanent deformations and, more crucially, lowers the number of fractures produced by the cold during the winter season.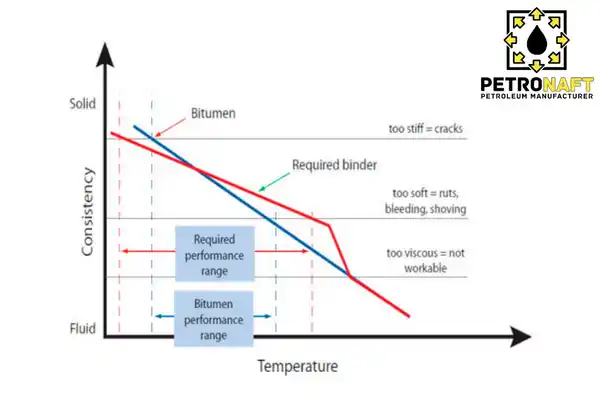 POLYMER MODIFIED BITUMEN PRODUCTION PROCESS
In a stirred tank, a bitumen component is heated to a temperature between 185° C. and 221° C. and a block copolymer composition is added while the bitumen component is being stirred to form a homogeneous mixture. This method produces a PMB polymer modified bitumen binder composition in the substantial absence of cross-linking agents. A cured polymer modified bitumen binder composition is created by mixing the block copolymer composition with the homogeneous mixture and keeping the temperature between 185° C and 221° C for a length of time between 4 hours and 30 hours. Different types of polymers are utilized in this procedure, and they are selected based on a certain formula.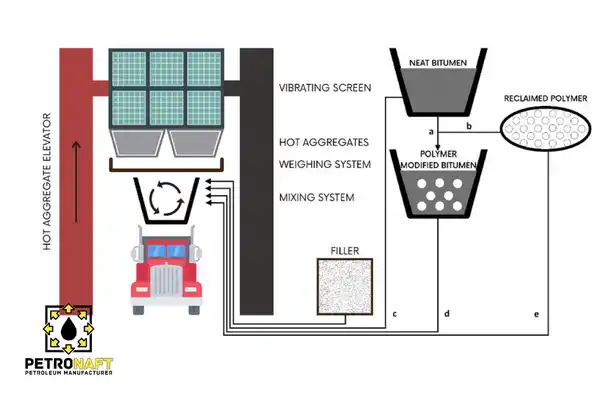 COMMON FORMS OF POLYMERS MODIFIED BITUMEN
type
General Purpose or Use
Generic Examples
filler
Fill voids and therefore reduce optimum asphalt content
Meet aggregate gradation specifications
Increase stability
Improve the asphalt cement-aggregate bond
Mineral filler
crusher fines
lime
Portland cement
fly ash
Carbon black
extender
Substituted for a portion of asphalt cement (typically between 20–35 % by weight of total asphalt binder) to decrease the amount of asphalt cement required
Sulfur
Lignin
rubber
Increase HMA stiffness at high service temperatures
Increase HMA elasticity at medium service temperatures to resist fatigue cracking
Decrease HMA stiffness at low temperatures to resist thermal cracking
(see Figure 2)
Natural Latex
Synthetic latex
(e.g., Polychloroprene latex)
Block copolymer
(e.g., Styrene-butadiene-styrene (SBS))
Reclaimed rubber
(e.g., crumb rubber from old tires)
plastic
Polyethylene/polypropylene
Ethylene acrylate copolymer
Ethyl-vinyl-acetate (EVA)
Polyvinyl chloride (PVC)
Ethylene propylene or EPDM
Polyolefin
Rubber-Plastic Combinations
Blends of rubber and plastic
Fiber
Improving tensile strength of HMA Mixtures
Improving cohesion of HMA Mixtures
Permit higher asphalt content without the significant increase in the drain down
Natural:
Asbestos
Rock wool
Manufactured:
Polypropylene
Polyester
Fiberglass
Mineral
Cellulose
Oxidant
Increase HMA stiffness after the HMA is placed
Manganese salts
Antioxidant
Increase the durability of HMA mixtures by retarding their oxidation
Lead compounds
Carbon
Calcium salts
Hydrocarbon
Restore aged asphalt cement to current specifications
Increase HMA stiffness in general
Recycling and rejuvenating oils
Hard and natural asphalts
Antistripping Agents
Minimize stripping of asphalt cement from aggregates
Amines
Lime
Waste Materials
Replace aggregate or asphalt volume with a cheaper waste product
Roofing shingles
Recycled Tires
Glass
POLYMER MODIFIED BITUMEN Applications
Applications in industries
Insulation and bituminous waterproofing
Insulation of electrical wiring
We produce Polymer Modified Bitumen PMB of the best quality in a variety of types and grades and export them from Iran and the United Arab Emirates to other nations worldwide.
Polymer Modified Bitumen Iran ( PMB Iran )
Polymer Modified Bitumen Emirates ( PMB Emirates )
POLYMER MODIFIED BITUMEN Packing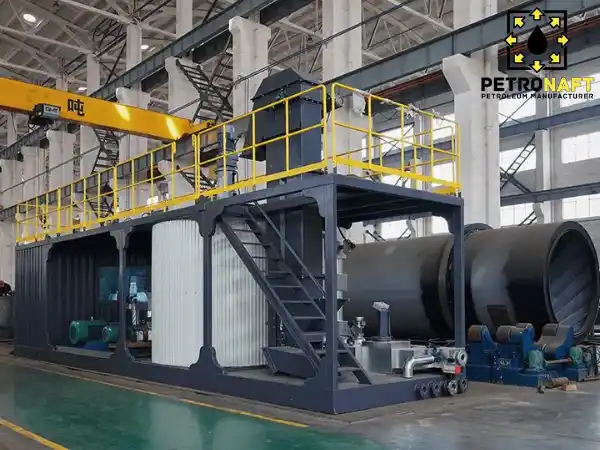 Frequently Asked Questions About POLYMER MODIFIED BITUMEN