The Importance of Asphalt Installation
The significance of asphalt installation cannot be overstated, as it plays a crucial role in the lifespan and performance of any roadway or paved surface. A well-executed asphalt installation not only ensures a smooth, safe, and visually appealing surface, but also minimizes the need for extensive repairs and maintenance in the long run.
Asphalt is a wonderful material for a variety of purposes
Whether it's time to replace an old pavement that already exists or you're thinking about starting a new project, asphalt is a good choice. Long driveways, car parks, industrial sites, and other large areas can all benefit from the sturdy and stable basis that asphalt offers.
What steps are included in the asphalt installation?
The following steps are involved in the process of installing asphalt:
1-The importance of preparation and accurate measurement
2-The excavation of the site as well as its preparation
3-Laying the basecourse
4-Laying asphalt
5-Letting it set and get firm
This article provides a breakdown of the necessary stages for a typical asphalt installation project. Nevertheless, the level of difficulty of each project differs, and as a result, these phases may be modified as necessary.
In order to ensure that water runoff is controlled, additional considerations pertaining to drainage solutions will need to be made due to the fact that there are rules and practicalities that need to be taken into account. If severe drainage problems need to be solved, more work may need to be done both before and during the project.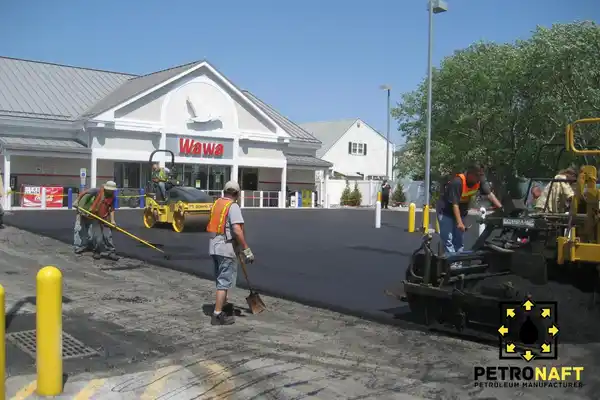 The excavation of the site as well as its preparation
The first phase in the process of installing asphalt is the destruction and/or removal of the current driveway or site surface, which may or may not be required depending on the results of the first consultation.
If the land is allowed to stay unchanged, then it will need to be cleaned and compacted so that it can support more weight. This will require clearing the work area and its surrounding areas of any uneven features, such as rocks, rubbish, and any trees or plants that may be present.
The subgrade will need to be graded in order to attain the ideal slope for water drainage and run-off, regardless of whether or not any preliminary works are necessary.
If the present surface is going to be kept, then there will be less of a requirement for this site preparation, and the new surface could simply need some minor repairs, edge tie-ins, and sweeping before it can be installed.
At this point, further work to direct stormwater runoff may be put in place depending on any drainage solutions that may already be in place.
Laying the basecourse
The basecourse can be composed of limestone, road base, gravel, or recycled concrete, depending on the availability of these materials in the area where the work is being done.
The laying down of the basecourse is a vital step in the construction of any asphalt project. A good basecourse has to have slopes that allow water to drain away effectively, and it also has to be compacted and water-bound so that it can become firm and provide a sturdy foundation for the asphalt layer that goes on top. A basecourse that is of superior quality offers excellent resistance to the wear and tear that can be brought on by factors such as heavy use, erosion, and the effects of the elements, among other things.
It is essential that the basecourse be completely compacted and correctly water-bound to the precise form, line, and level that are needed for the asphalt surface that will eventually be paved over.
Laying asphalt (Modified with Gilsonite)
Hot-mix asphalt is a combination of aggregate (sand, granite, or gravel) and bitumen 60-70 or other types of bitumen, such as emulsion bitumen, which can be used with special Gilsonite called "Gilsonite for Asphalt" for more durability. This mixture is then blended at a high temperature to dry the aggregate, improve viscosity, and improve flexibility. These qualities make the combination malleable, making it simpler to put down, grade, and level it before the material cools and solidifies. Due to the high temperature of hot-mix asphalt, it is the ideal material to use when trying to fill in small gaps or navigate acute curves in a driveway.
It is easy to make a mistake during this procedure, which might potentially put you in harm's way if you do not have access to the appropriate specialist equipment. As a result, you need to depend on expert contractors that work with bitumen and asphalt.
Letting it set and get firm
Prior to the process of installing asphalt, the basecourse may be used to construct an appealing and useful curb along the borders of the roadway, if that is something you wish. It is common practice to lay additional components, such as pavers, on walkways and smaller areas that are adjacent to a parking lot before laying asphalt. This is done to reduce the likelihood that the new asphalt will sustain damage to its surface.
The oxidation (also known as hardening or "curing") of a newly poured asphalt surface takes some time and this is the last stage of asphalt installation. nonetheless, in most situations, the surface may be gently used the very following day. One of the reasons asphalt pavements may persist for decades is because they completely harden and become more resistant to damage over the course of a lengthy period of time.
Purchasing from Petro Naft
For more detailed information and to purchase the product discussed in this article, please visit the dedicated product page below. Alternatively, use the various communication channels provided on our site to register your purchase inquiry or take advantage of our expert guidance.
Prepared by the PetroNaft Co. research team.