Introduction of EMULSION BITUMEN
Emulsion bitumen is heterogeneous, two-phase systems comprised of two immiscible liquids, bitumen and water, which are stabilized by a third component, the emulsifier. The bitumen is spread throughout the continuous aqueous phase as discrete droplets, generally between 0.5 and 5 microns in diameter, that are kept in suspension by electrostatic charges. The first two groups of bitumen emulsions are by far the most significant in terms of volume:
Cationic emulsions.
Anionic emulsions.
Nonionic emulsions.
The names cationic, anionic, and nonionic relate to the total particle charge on the bitumen droplet given by the emulsifier. If an electric charge is introduced through an emulsion containing negatively charged bitumen particles, the droplets will migrate to the anode; hence, the emulsion is referred to be anionic. In contrast, positively charged particles move to the cathode, and these emulsions are called cationic emulsions. Since bitumen droplets in nonionic emulsions are neutral, they will not migrate to either pole. Clay emulsions are examples of these nonionic emulsions. Initially, attempts were attempted to generate emulsions by merely mechanical methods, but it quickly became evident that although a dispersion might be formed by mechanical shear, the dispersion would not be stable without the presence of a third component, the emulsifier. Initially, organic acids found naturally in bitumen were used. The acids were transformed into soap and the dispersion was stabilized by the addition of sodium or potassium hydroxide to the aqueous phase.
WHAT IS EMULSION BITUMEN?
Emulsion Bitumen, commonly referred to as bitumen emulsion, is a combination of bitumen (a gooey, black, very viscous liquid or semi-solid form of petroleum) and water. An emulsifying agent is used to blend the two ingredients and produce a stable, homogeneous mixture. Emulsions may be anionic (negatively charged), cationic (positively charged), or nonionic (neutral).
Road building, paving upkeep, and waterproofing are just a few of the many uses for emulsion bitumen. Depending on the individual application and the intended result, it may be applied by spraying, brushing, or pouring. Emulsion bitumen has the advantage of being applied at lower temperatures than hot-mix asphalt, which makes it a more energy- and environmentally-friendly choice. Emulsion bitumen is often used for smaller-scale building projects since it is simpler to handle and transport than other types of bitumen.
We manufacture the highest quality Emulsion Bitumen in different types and grades and export them from Iran and the UAE to other countries around the world.
Iran Emulsion Bitumen
UAE Emulsion Bitumen
COMPOSITION AND VARIOUS BITUMEN EMULSION TYPES
There are two distinct forms of bitumen emulsion:
When the bitumen emulsion is sprayed to the aggregate for roadwork, the water evaporates, leaving behind bitumen droplets. These droplets disperse over the aggregate, bond to one another, and gradually build strength.
On the basis of the time required for the vitamin emulsion to evaporate the water and for the particles to separate from the water, bitumen emulsion is further divided into three categories depending on setting time:
a) Slow setting emulsion
In this sort of emulsion, a specific type of emulsifier is utilized to slow the rate of water evaporation. This category of emulsifiers is rather stable.
b) Medium setting emulsion
When applied to aggregate, this form of bitumen emulsion does not crack. When fine mineral dust is combined with an aggregate emulsion mixture, the evaporation process begins.
c) Rapid setting emulsion
This form of bitumen emulsion degrades swiftly when it comes into touch with aggregate, aiding in fast setting and rapid curing.
According to Surface Charge
The components of bitumen emulsion are water and bitumen. Typically, a third component is added to a combination of water and oily substances to make it more stable, since the mixture of water and oily substances soon separates.
This third ingredient, known as an emulsifier, is employed to create a water-and-oil combination that is spread inside each other. In addition to reducing the tension between oil and water molecules, emulsifiers contain an electrical charge that influences the molecules of bitumen emulsion and leads to its classification as Cationic or Anionic.
Anionic Bitumen Emulsion
Bitumen Emulsion Cationic
The microscopic bitumen droplets in anionic bitumen emulsion are electronegatively charged. Electro positively charged bitumen droplets are present in cationic bitumen emulsion.
Between emulsions, cationic is the norm and most prevalent.
The selection of positive or negative recharge between emulsions is dependent on the mineral composition of the aggregate employed.
EMULSION BITUMEN GRADES
Petro naft Co. provides a wide range of high-quality grades in this category, which has been listed below. 
Bitumen emulsion CSS-1 (Emulsion Bitumen CSS1)
Bitumen emulsion CSS-1h (Emulsion Bitumen CSS1h)
Bitumen emulsion CMS-2 (Emulsion Bitumen CMS2)
Bitumen emulsion CMS-2h (Emulsion Bitumen CMS2h)
Bitumen emulsion CRS-1 (Emulsion Bitumen CRS1)
Bitumen emulsion CRS-2 (Emulsion Bitumen CRS2)
Anionic emulsion SS-1h (Emulsion Bitumen SS1h)
Anionic emulsion SS-1 (Emulsion Bitumen SS1)
Anionic emulsion RS-2 (Emulsion Bitumen RS2)
Anionic emulsion RS-1 (Emulsion Bitumen RS1)
Anionic emulsion QS-1h (Emulsion Bitumen QS1h)
Anionic emulsion MS-2h (Emulsion Bitumen MS2h)
Anionic emulsion MS-2 (Emulsion Bitumen MS2)
Anionic emulsion HFRS-2 (Emulsion Bitumen HFRS2)
Anionic emulsion HFMS-2s (Emulsion Bitumen HFMS2s)
Anionic emulsion HFMS-2h (Emulsion Bitumen HFMS2h)
Anionic emulsion HFMS-2 (Emulsion Bitumen HFMS2)
Anionic emulsion HFMS-1 (Emulsion Bitumen HFMS1)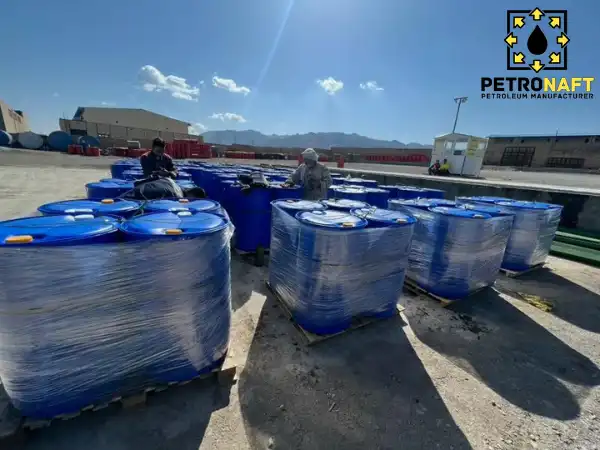 Cationic Emulsions

Anionic Emulsions

Rapid Settings (RS) Type

CRS-1

CRS-2

RS-1

RS-2

Medium Settings (MS) Type

CMS-2

MS-2

Slow Settings (SS) Type

CSS-1

CSS-1h

Modified

CSS-1h

SS-1

SS-1h

Modified

SS-1h
Cationic Emulsion bitumen

CRS

CMS

CSS

CRS-1

CMS-2

CSS-1

CRS-2

CMS-2h

CSS-1h
ANIONIC EMULSION

RS

MS

SS

RS-1

RS-2

MS-1

MS-2

MS-2h

HFMS-1

HFMS-2

HFMS-2h

HFMS-2s

SS-1

SS-1h
According to their setting time, both cationic and anionic bitumen emulsions are classified. Below is a table listing the numerous types of bitumen emulsion as well as their internationally recognized names.
METHOD OF BITUMEN EMULSION MANUFACTURING
In the manufacturing of bitumen emulsion, water is treated with an emulsifying agent and other chemicals before being put into a colloid mill with bitumen. The colloid mill fragments the bitumen into microscopic droplets. The emulsifier migrates to the asphalt-water contact and prevents the droplets from aggregating. Afterwards, the emulsion is pumped into a storage tank. To get the appropriate bitumen emulsion qualities, complex bitumen emulsions and a solid understanding of chemistry are needed. Bitumen and the kind and quantity of emulsifying agent are variables in the emulsion generation process. Anionic bitumen emulsions and cationic bitumen emulsions are the two most common classes of emulsions worldwide. The designation is determined by the emulsifying agent type used. Emulsifying agents are the chemicals required to stabilize the emulsion and maintain the "billions and billions" of bitumen droplets distinct from one another. These compounds are big organic molecules consisting of two separate components. These components are known as the "head" and "tail." The "head" consists of a collection of atoms with chemically positive and negative charge regions. Because of these two charged regions, the head is referred to be polar (as in poles of a magnet). Due to its polarity and the composition of some of the atoms in this polar head, the head is soluble in water. The tail consists of a long chain organic group that is insoluble in water but soluble in other organic compounds, such as oils (bitumen). Thus, an emulsifying agent consists of a single molecule containing both water-soluble and oil-soluble components. The chemical's emulsifying ability is a result of its unique property.
EMULSION BITUMEN PROCESS
Bitumen emulsion is produced in two straightforward steps:
First, the water is combined with the suitable emulsifier and other chemical agents. The choice of emulsifier is determined by the ionic composition of the mixture.
In the second step, an emulsifier-water mixture is introduced to bitumen in a colloidal mill. The quantity of bituminous to be added is contingent upon the intended application of the bitumen emulsion. If it is employed for significant tasks, the percentage might vary from 60 to 70 percent.
The usual bitumen mixture ranges from 40 to 70 percent.
The colloidal mill reduces the bitumen to very minute droplets. The typical size of a bitumen droplet is around 2 microns. However, the droplets attempt to clump together and settle the liquid.
On the other side, the emulsifier generates a coating of surface charge around each bitumen droplet, which helps to maintain them apart and in a dispersed and suspended state. The mixture obtained from the colloidal mill is held in storage tanks and used as needed.
Breaking emulsion characteristics:
To facilitate application, emulsions exist. After application, water should evaporate, leaving asphalt cement behind. In a surface treatment, once emulsion and aggregate have been put to a road's surface, the emulsion should "break," leaving the asphalt cement to retain the aggregate. At that time, surface traffic may be permitted without aggregate loss. The kind of emulsion used has a significant impact on the rate of "break" of an emulsion. Nearly every surface has a net negative charge. This negative charge's strength or intensity may vary from substance to material. As a result of this phenomena, anionic and cationic emulsions break apart differently.
In an application of anionic emulsion, droplets of asphalt that are negatively charged are applied to a negatively charged surface. All elements are mutually repellent. Only by the loss of water through evaporation can the emulsion split. As more water is lost via evaporation, the particles are pushed closer together until they can no longer be separated by a water layer. At this moment, droplets consolidate into bigger and larger drops, finally forming a film of bitumen and asphalt on the road. The following diagram illustrates the application: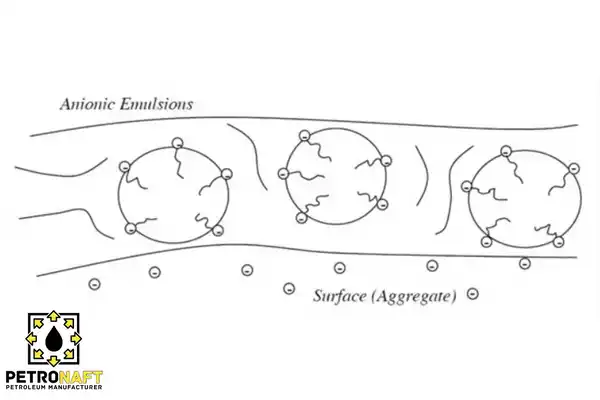 During the application of cationic emulsion, positively-charged bitumen droplets are applied to a negatively-charged surface. The bitumen droplets are quickly attracted to the surface and begin to break apart upon contact. Evaporation contributes to the emulsion's water loss. Thus, the cationic emulsion has two pathways for breaking and will shatter quicker than its anionic counterpart. The following diagram illustrates the application: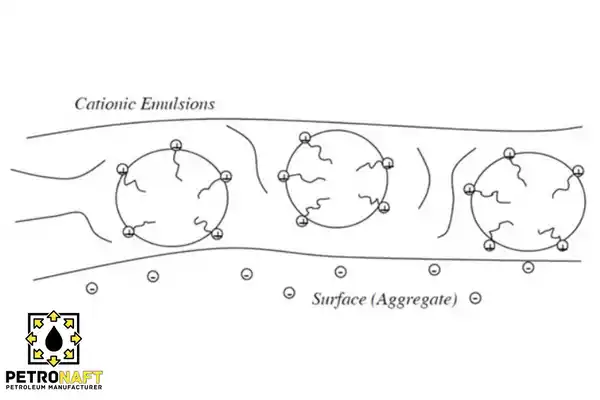 The purpose of a surface treatment is to seal the road against moisture penetration and to give a fresh skid-resistant surface, while allowing traffic to resume as quickly as feasible and retaining aggregate. Due to the chemistry of emulsions, they may respond differently under certain weather and application circumstances. If you have issues in any of these regions, it may be due to the weather, aggregate condition, or utilized emulsion.
The basic bitumen has also been diluted in bitumen emulsions in order to simplify application. Bitumen, water, and an emulsifier are processed in a high-speed colloid mill, which disperses the bitumen in the water. The emulsifier creates a system in which tiny droplets of bitumen comprising between 30 and 80 percent of the volume are suspended. The emulsion may be quickly reestablished by agitation if it separates during storage.
The low viscosity and workability of bitumen emulsions at room temperature make them excellent for use in road pavements and surface. This application needs deliberate breaking and setting. The emulsion must not break before they are spread on the road surface, but after they are in place, they should break fast so that the road may be used again without delay.
The following elements determine the stability of emulsions:
Quantity and classification of bitumen emulsifiers.
Evaporation rate of water.
Bitumen amount.
Bitumen globules size.
Forces of mechanics.
Sprays are used to administer the emulsions. Viscosity is a key problem in this situation. The mixture gets more viscous as bitumen concentration rises. When the percentage surpasses 60%, this is deemed sensitive.
Which substances make up the emulsion?
Asphalt (bitumen) and water are the key components of the emulsion. Emulsions are available in a variety of grades, but generally include 55 to 75% asphalt (bitumen). In addition to asphalt (bitumen) and water, asphalt emulsions comprise between 0.1 and 2% of an emulsifier or "soap" that serves to stabilize the emulsion. These soaps and detergents used for household cleaning and personal care are comparable to these soaps. The asphalt emulsions may also include trace quantities (1%) of additional substances, including pH (acidity) regulators and viscosity regulators.
The emulsifying agents are:
The most prevalent compounds obtained from wood are fatty acids and lignin, which combine with sodium hydroxide to create soap. In the presence of water, the soaps become negatively charged and produce "anionic" asphalt emulsions. A second category of emulsifiers, amines are generated from either wood acids (tall oils) or animal fats (tallow). These emulsifiers produce soaps that get positively charged in water to produce "cationic" asphalt emulsions.
Factors affecting setting of emulsions
The following elements impact the setting & curing of bitumen emulsion mixtures.
Water absorption of aggregate
The roughness of the aggregate's surface
Amount of mineral dust in aggregate
Aggregate gradation
Mineral content of aggregate
The charge density on aggregate surface
Type of emulsifier used & its amount
Atmospheric state, climatic circumstances
Wind speed and altitude
Conditions of the building site's drainage
The functionality of bitumen emulsion:
When bitumen emulsion is combined with aggregates used in road building, the emulsion destabilizes and the bitumen droplets fuse together, forming a strong adhesive bond that "glues" the aggregates together. The water evaporates, but the emulsifiers stay in the bitumen, where they serve a vital purpose by assisting the bitumen to adhere to the aggregate.
TYPICAL EMULSION BITUMEN DESIGNATIONS
| | | | | | |
| --- | --- | --- | --- | --- | --- |
| Emulsion grade | Cationic  | Anionic | set | Minimum asphalt content | Notes |
| SS-1 |   | * | Slow | 57 |   |
| SS-1h |   | * | Slow | 57 |   |
| QS-1h |   | * | Slow | 57 | Meet ASTM D3910 |
| CSS-1 | * |   | Slow | 57 |   |
| CSS-1h | * |   | Slow | 57 |   |
| CSS-1hP | * |   | Slow | 57 | With 3% polymer |
| CQS-1h | * |   | Slow | 57 | Meet ASTM D3910 |
| MS-1 |   | * | Medium | 55 |   |
| MS-2 |   | * | Medium | 65 |   |
| MS-2h |   | * | Medium | 65 |   |
| CMS-2 | * |   | Medium | 65 |   |
| CMS-2h | * |   | Medium | 65 |   |
| HFMS-1 |   | * | Medium | 55 | High float |
| HFMS-2 |   | * | Medium | 65 | High float |
| HFMS-2s |   | * | Medium | 65 | With 1-7% solvent |
| HFMS-2h |   | * | Medium | 65 | High float |
| RS-1 |   | * | Rapid | 55 |   |
| RS-2 |   | * | Rapid | 63 |   |
| CRS-1 | * |   | Rapid | 60 |   |
| CRS-2 | * |   | Rapid | 65 |   |
| CRS-2P | * |   | Rapid | 65 | With 3% polymer |
| HFRS-2 |   | * | Rapid | 63 | High float |
NOTE: h indicates a tougher emulsion residue penetration between 40 and 90 DMM at 25C. s indicates that the emulsion must additionally include a solvent or distillate.
BITUMEN EMULSION BENEFITS ARE AS FOLLOWS
No heating procedure is required for operation.
No chemical solvents are necessary.
There is no danger of fire during storage, transit, or installation.
There is no environmental contamination danger.
Bitumen emulsion applications yield no or minimum hydrocarbon emissions.
Emulsification needs no petroleum solvents. (Some mixing-grade emulsions may include trace quantities of solvent to improve their mixing properties).
For the majority of applications, emulsions may be used at room temperature without the addition of heat, and they emit little odors.
Appropriate for humid conditions.
Widespread use in road building and maintenance.
Desert sand stabilization and mulching are further use of bitumen emulsion.
Emulsions are appropriate for non-attainment locations with low levels of airborne pollutants.
Bitumen emulsions rapidly adhere to wet aggregate surfaces, hence decreasing the amount of fuel needed to dry aggregates.
The use of pavement preservation techniques drastically reduces the number of raw materials and energy required for rebuilding and corrective maintenance.
Advantages of Emulsion Bitumen Usage in Prime Coat and Tack Coat:
When it comes to prime and tack coat treatments, the use of emulsion bitumen offers a number of benefits to the user. To begin, as compared to the more conventional method of using hot mix asphalt, emulsion bitumen is a substance that is both safer and better for the environment. This is due to the fact that emulsion bitumen is mixed at lower temperatures, which in turn results in less emissions and use of energy. In addition, emulsion bitumen has outstanding bonding qualities, which leads to pavements that are both more robust and more long-lasting. The use of emulsion bitumen in the construction of pavements lowers the likelihood that the pavement would crack or rut, which leads to a longer lifespan for the pavement.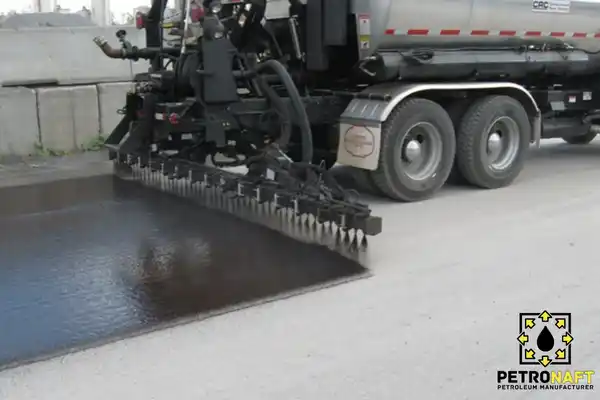 WHAT'S THE DIFFERENCE BETWEEN CUTBACK AND EMULSION BITUMEN?
Due to the kerosene component of reclaimed bitumen, there are significant concerns with its use, as shown below:
Utilizing the fuel as a precious commodity.
Environmental pollution caused by the solvent's evaporation into the air and its penetration into the soil and subterranean waterways.
Possibilities of kerosene combustion and inhalation while working.
Using water instead of kerosene in bitumen emulsion not only avoids the difficulties of cutback bitumen, but it also increases the bitumen's efficiency and adhesiveness; this form of bitumen is also of superior quality and can be sprayed at lower temperatures with a bitumen emulsion sprayer.
EMULSION BITUMEN APPLICATIONS
Bitumen emulsion uses for the following purposes
• Emulsions are used in the building of bituminous roads. They are particularly useful for maintenance and patchwork repairs.
• The emulsion may be used even when it is pouring in damp conditions.
• Emulsions have also been used in soil stabilization, notably for stabilizing desert sands.
• An emulsion with a rapid setting time is suited for surface treatment and macadam building.
• The medium setting type is utilized for mixing coarse aggregates in advance.
• In the case of fine aggregates, the aggregate surface area is greater, necessitating a lengthy period of time for emulsion mixing. Therefore, it is preferable to use a slow-setting emulsion that allows ample time for homogeneous mixing.
• Bitumen emulsion Waterproofing: For waterproofing reasons, the bitumen emulsion can be simply sprayed on the wall, roof, floor, pool, restroom, and bathroom, as well as any other surface that we do not want to leak. It requires no heating and can be dispersed using a sweeper or sprayer.
• Bitumen emulsion paint: Bitumen emulsion paint is a protective coating that is emulsified and thixotropic. As the coating dries, it transforms into a protective film that is black and flexible. The completed film creates a robust barrier that prevents the passage of vapor.
Petro Naft produces Emulsion Bitumen of the best quality in a variety of types and grades and exports them from Iran and the United Arab Emirates to other nations worldwide.
Emulsion Bitumen Iran
Emulsion Bitumen Emirates
New Steel Drum, Plastic Drums, and Bulk.
Frequently Asked Questions About EMULSION BITUMEN