INTRODUCTION OF GILSONITE FOR CEMENTING
The function and benefits of Gilsonite for cementing are well known; in other words, this natural bitumen greatly enhances cement quality. It also eliminates the expenses and difficulties associated with utilizing several add-ons. Gilsonite guarantees regional isolation, minimizes environmental hazards, enhances final recovery, and lowers well ownership costs during the well's life.
IRAN GILSONITE FOR CEMENTING / IRAN NATURAL ASPHALT FOR CEMENTING / IRAN NATURAL BITUMEN FOR CEMENTING
The mines of western Iran (Ilam, Gilangharb, Eyvangharb, and Lorestan) are where the Petronaft Gilsonite Lump is mined, and then it is brought to the plant site to be stored there. Gilsonite lumps are poured into the hopper by the digger loader as they are broken up. After that, they are brought to the hammer mill by means of a strip conveyor. In this way, Gilsonite is divided into different grades based on the percentage of ash present and the desired size. The required tests are then completed, quality control is performed, and the product is packaged and ready to be exported in different types and grades from Iran, Turkey, and the UAE to other countries around the world.
At this time, PETRO NAFT is manufacturing a variety of grades of gilsonite, including the following:
Lump Gilsonite
Granulated Gilsonite
Micronized Gilsonite Powder
1- Gilsonite with ash content up to 5%, moisture up to 1% and meshes 30, 40, 100 to 300.
2- Gilsonite with ash content up to 10%, moisture up to 1% and meshes 30, 40, 100 to 300.
3- Gilsonite with ash content up to 15%, moisture up to 1% and meshes 30, 40, 100 to 300.
4- Gilsonite with ash content up to 20%, moisture up to 1% and meshes 30, 40, 100 to 300.
5- Gilsonite with ash content up to 25%, moisture up to 1% and meshes 30, 40, 100 to 300.
MINERAL BITUMEN (NATURAL ASPHALT) IN CEMENTING:
General description of gilsonite in cementing: A wellbore is a drilled hole that aids in the extraction of natural resources such as oil, gas, or water. The wellbore is the main hole through which the ultimate well will be drilled. Furthermore, wellbores may be encased by steel or cement, or they may not be encased at all, depending on the scenario. In oil wells, the wellbore must be encased in cement. The use of Gilsonite material during oil well cementing improves isolation while minimizing vertiginous gas fluxes. Gilsonite's composition enables it to function as a binder. Gilsonite also helps to fill gaps in the wellbore casing, resulting in improved bonding and preventing isolation in various zones. The Gilsonite required for oil well cementing is standard quality lump grade Gilsonite. When an oil well is completed, a cement and rock aggregate mixture is injected down the well to encapsulate the oil pipe in the formation. Pumping such a heavy mix down into a well and drawing it back up is a costly procedure. Pumping expenses are drastically reduced when a large portion of the heavy rock is replaced with light-weight Gilsonite particles. As a result, using Gilsonite in oil well cementing is a "rock substitute."
BENEFITS OF GILSONITE IN CEMENTING AND CEMENT SLURRIES:
The following are some of the advantages of Gilsonite in cementing:
Maintaining adequate material circulation density within the well, resulting in a healthy flow of drilling mud
Keep weeds off the grout
Polishing the well's wall
Lowering the water-to-slurry ratio
Improve performance
Slurry weight modification
Managing rushing water
PROPERTIES OF GILSONITE AS A SUITABLE CEMENT ADDITIVE:
Paraffins, resins, oils, asphalts, and elastomers are all compatible (polymer materials with elastic properties)
Low specific gravity (1.06-1.04 at 77 degrees Fahrenheit)
Extremely high softening points (over 340°F)
Concentrating cement slurry at the appropriate time
Melting and decomposition resistance
Interoperable with other cement additives
Low relative humidity (less than 1.5 percent)
semi-polymeric properties
High level of purity
Affordable
Consistent quality
Multipurpose
GILSONITE FOR CEMENTING SPECIFICATION: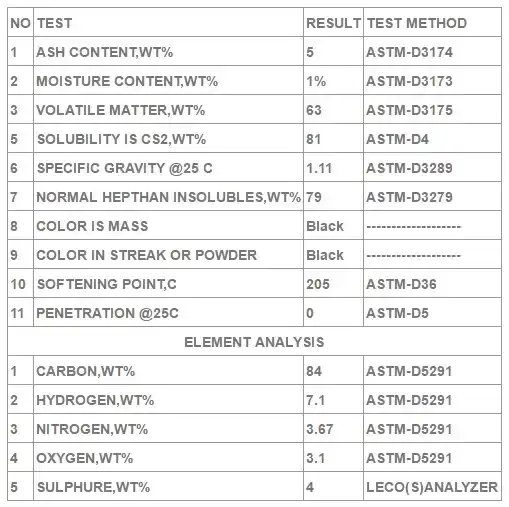 APPLICATIONS OF GILSONITE FOR CEMENTING
Gilsonite effects after cement hardening:
Well wall consolidation against the performance of the wall pipe
Reducing environmental hazards
Observance of restrictions
supplying the required compressive strength
Greater adaptability
Cracking is reduced.
Enhancement of microcracks
Reduced permeability
Using natural bitumen to solve difficulties associated with free cement water (effects of gilsonite):
Gilsonite or natural bitumen strengthens and stabilizes the cement slurry, and by reducing runoff, it removes the need to spend additional money on runoff control additives. Furthermore, by confining the subsurface water in the top section of the well, it causes regional isolation to grow.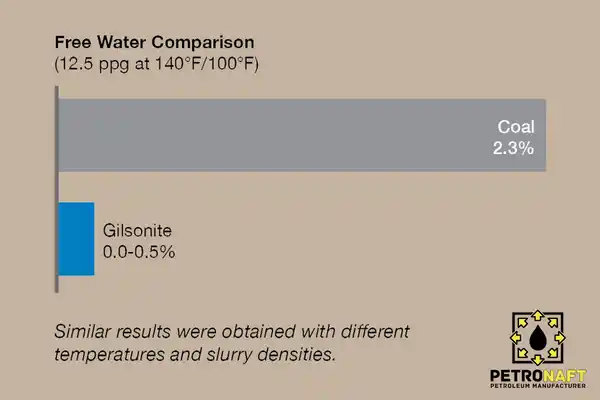 Self-healing properties and cement insulation preservation with gilsonite:
Other uses and advantages of Gilsonite in cementing are its transformability, ability to alter shape, swelling capacity, water resistance, and non-porousness. These characteristics provide cement with self-healing properties that may fill microcracks in the cement shell. The natural bitumen or gilsonite in the cement expands over time to fill the fissures caused by the microcracks.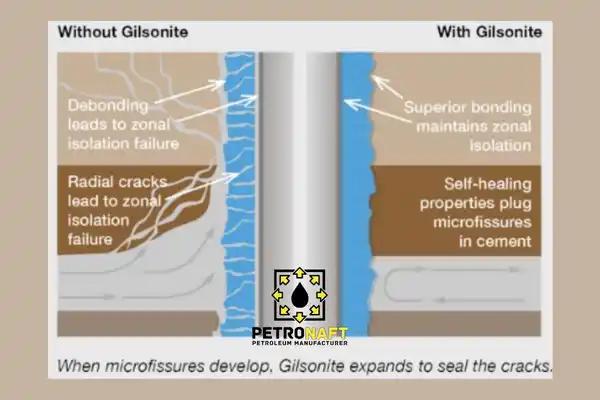 The importance of cementing with gilsonite in environmental preservation:
Because of the remarkable properties of Gilsonite or natural bitumen, the cementing process may continue with great dependability, consistency, and long-term production with low environmental impact.
Regional isolation throughout the duration of the well's life
Elimination of fluid cross-flow
Preventing gas from reaching the earth's surface
Freshwater aquifer protection
The need of employing long-lasting cement in today's wells:
Gilsonite lowers the Young's modulus of elasticity, increasing cement's flexibility and strength. Gilsonite extends the life of the well and assures long-term production by enhancing the well wall's tolerance to bottom drilling and rotating pressures, as well as managing the temperature induced by drilling.
We manufacture the highest quality Gilsonite for cementing / Natural Asphalt for cementing / Natural Bitumen for cementing in different types and grades and export them from Iran, Turkey, and the United Arab Emirates to other countries around the world.
Gilsonite Iran for cementing / Natural Asphalt Iran for cementing / Natural Bitumen Iran for cementing
Understanding Global Gilsonite Prices: A Must-Read Comprehensive Guide for Better Comprehension
Market Pricing for Gilsonite: Review
Understanding Iran's Gilsonite Price: A Must-Read Comprehensive Guide to Improve Your Knowledge
PACKING OF GILSONITE FOR CEMENTING
Jumbo Bags-PP Bags- Multi paper Bag-Bulk on Vessel