INTRODUCTION of NORMAL PARAFFIN
Normal Paraffin is a colorless liquid that is composed of saturated hydrocarbons that have a chain structure consisting of straight links. They are produced in gas-to-liquid production facilities by using a technique known as "The Fischer Tropsch Process" either by distilling them from kerosene. Typically, it is made up of roughly ten distinct hydrocarbons, each of which has between 10 and 16 carbon atoms in a single molecule. Some of the components that make up this compound include n-dodecane, alkyl benzene, and naphthalene as well as its derivatives.
Distilling crude oil results in the production of kerosene, which is a fuel that is used in the heating industry as well as in the aviation industry. N-Paraffin C10-C13 is a liquid that has no discernible color and a faint smell. It cannot be dissolved in water. It leaves behind very little soot, has a low evaporation rate, and is ecologically friendly.
WHAT IS NORMAL PARAFFIN?
The most important raw material required for the production of linear alkylbenzene (LAB) is Normal Paraffin. Because normal paraffin is extracted from kerosene, which on average includes 20–25% paraffin, Normal Paraffin is often produced in close proximity to a refinery. This is because the kerosene that has had the paraffin taken from it must be returned to the refinery.
The remaining N-Paraffin can be further processed to obtain special solvents used for various industrial applications including synthetic resins, paints and varnishes, degreasing agents, and printing inks. The amount of Normal Paraffin that is used for the production of LAB is greater than 80% of the total amount of Normal Paraffin. In industrial settings, Normal Paraffin is used as a dissolving agent in the manufacturing of polymers and resins, as well as colors, artistic covers, and grease polisher.
We export the highest-quality Normal Paraffin / N-Paraffin in different grades from Iran, Turkey, and the UAE to other countries around the world.
• Iran Normal Paraffin / Iran N-Paraffin
• Turkey Normal Paraffin / Turkey N-Paraffin
• UAE Normal Paraffin / UAE N-Paraffin
NORMAL PARAFFIN PROPERTIES: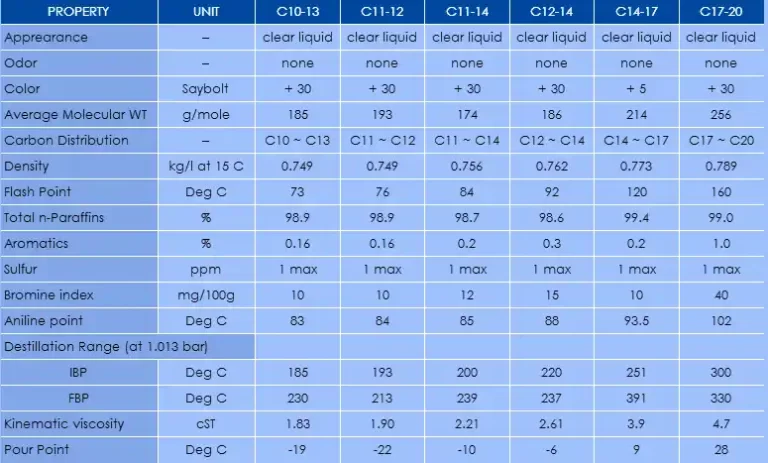 NORMAL PARAFFIN SPECIFICATIONS: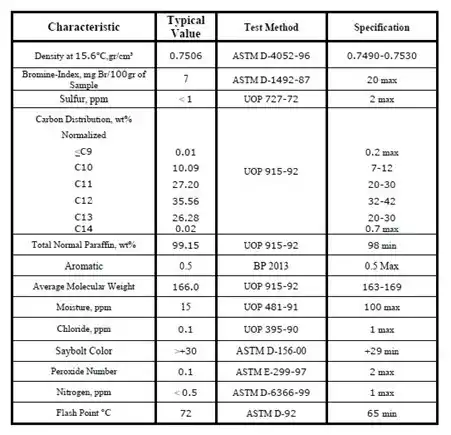 NORMAL PARAFFIN Applications
Normal Paraffin, also known as N-Paraffin is a liquid paraffin with many uses, including as the primary component in the production of Linear Alkylbenzene (LAB). It also has a broad range of other potential uses, such as in lubricating oils, chemical process solvents, oilfield drilling fluids, liquid lamp oils, and metal rolling oils.
Petro Naft Co. provides Normal Paraffin / N-Paraffin of the best quality in a variety of grades and exports them from Iran, Turkey, and the United Arab Emirates to other nations worldwide.
• Normal Paraffin Iran / N-Paraffin Iran
• Normal Paraffin Turkey / N-Paraffin Turkey
• Normal Paraffin Emirates / N-Paraffin Emirates
The packing of Normal Paraffin is in new or second hand 175 kg drums, also ISO tank & flexi tanks. Each 20` container takes 80 drummed Normal Paraffin.