WHAT IS CAUSTIC SODA?
Caustic Soda is the name given to the chemical makeup of sodium hydroxide. This material is an alkali, a kind of base that can neutralize acids, is soluble in water, and has the attribute of being basic. Currently, caustic soda can be made in a variety of forms, including pellets (granules), flakes, powders, liquids, and more. The corrosive base, or caustic soda, which is a sort of chemical component, is used by a broad range of various types of enterprises. Every nation is keen to import this chemical since it is a necessary component of the manufacturing of a broad range of products, including textiles, paper, soaps, and cleaning products.
We export the highest-quality Caustic Soda / Sodium Hydroxide in different types and grades from Iran, Turkey, and the UAE to other countries around the world. (Petronaft is a shareholder of two large caustic soda manufacturer companies.)
Iran Caustic Soda / Iran Sodium Hydroxide
Turkey Caustic Soda / Turkey Sodium Hydroxide
UAE Caustic Soda / UAE Sodium Hydroxide
PHYSICAL PROPERTIES OF CAUSTIC SODA
• It has the capacity to absorb a substantial quantity of carbon dioxide and water from the environment around it.
• In its purest form, it takes on the appearance of a crystalline solid that is white in color. This is the condition in which it may be discovered.
• It has a viscosity of 78 megapascal, which is more than that of water; hence, it is a material that is more viscous than water.
• Having a density of 2.13 grams per milliliter and a melting point of 318 degrees Celsius, it may be melted at these temperatures. In addition to that, there is no discernible smell about it.
• The three solvents that have the least amount of trouble dissolving it are water, ethanol, and glycerol in that order.
• When it is dissolved in water, it triggers a reaction that is very high in exothermic activity.
• It is able to produce hydrates in sufficient quantities.
• It is available to purchase in both solid and liquid form.
CAUSTIC SODA PRODUCTION
Caustic soda, also known as sodium hydroxide, is normally produced by electrolyzing a solution of sodium chloride, more often known as brine. This specific approach is referred to by its more common term, the chloralkali process. The electrolysis of brine is an essential stage in the production of chloralkali. This step takes place in a cell that consists of two independent chambers that are partitioned off from one another by a porous diaphragm. As a result of the flow of electricity through the cell, the sodium ions in the brine are attracted to the cathode, whilst the chloride ions are pulled to the anode. One of the chambers of the cell is where the brine is introduced.
At the cathode, chloride ions are oxidized, which results in the production of chlorine gas. At the anode, sodium ions are reduced, which results in the formation of sodium metal. The sodium metal and chlorine gas that are produced during this process are then mixed with water in order to produce hydrochloric acid and caustic soda. It is essential to keep in mind that the chloralkali process requires a significant quantity of energy and carries the risk of producing potentially hazardous byproducts, such as chlorine gas and sodium metal. Both of these components must be managed with the utmost care and attention at all times.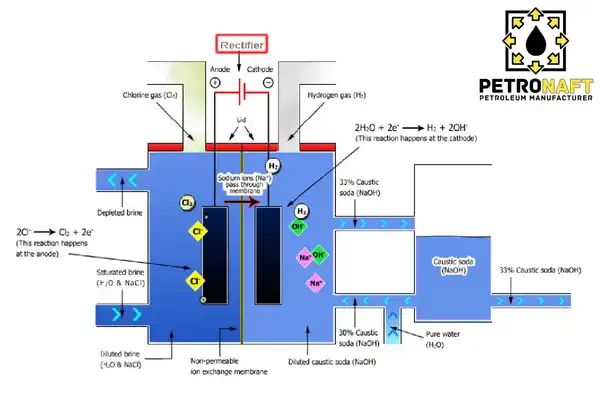 CAUSTIC SODA IN CLEANING PRODUCTS
In many different cleaning solutions, including those intended to clean ovens and drains, caustic soda is a component. Caustic soda is a useful ingredient in these goods since it is corrosive. Because it produces heat by reacting with the moisture in the air, it can change the state of fats and grease to the point where they are dissolved. Despite being FDA-approved and completely safe to use in cleaning solutions, caustic soda shouldn't be ingested, touched, inhaled, or used in locations with flammable materials.
CAUSTIC SODA IN MANUFACTURING
Caustic soda is used in a variety of sectors, mostly as a powerful chemical base, in the manufacture of drinking water, pulp and paper, soaps and detergents, and drain cleaners. In addition to de-inking and water treatment at pulp mills, the pulp and paper industry also uses caustic soda for pulping and bleaching. The manufacture of rayon and cellophane, soap, and textiles are only a few of the many applications for Caustic Soda, which also includes the extraction of alumina.
CAUSTIC SODA IN WATER TREATMENT
By absorbing both water and carbon dioxide, caustic soda (sodium hydroxide, or NaOH) elevates the pH of water.
The Hard Water:
Corrosion results from "hard" water. Magnesium and calcium dissolved in hard water are in large quantities. In a water treatment plant, minerals cling to the tanks and lines, obstructing water flow and, if untreated, eventually corroding through the line. The saponification of soaps and detergents is known to be reduced by hard water; as a result, clothing get scratchy and discolored, dishes and glasses become discolored, and buildup appears on the skin and appliances. When added to a water treatment system, caustic soda raises the pH of the water and may readily transform hard water into something that is much closer to neutral.
Reduction of Hazardous Metals:
Dangerous metals like lead and copper lose some of their solubility in caustic soda. These metals are heavy and bulky while in their insoluble condition, which increases the possibility that they may get stuck in a filter or fall to the bottom of a tank where they can be collected.
Inhibitor of Corrosion:
In contrast to other additives, which release calcium carbonate as a consequence of sequestration, caustic soda acts as a corrosion inhibitor without causing an uneven distribution of calcium carbonate. Calcium carbonate, despite its capacity to adhere to pipe walls and give some degree of protection against caustic chemicals, inhibits the flow of water due to its excess and uneven distribution, which makes it difficult for water to reach its destination.
It has been shown that the use of caustic soda in the treatment of water needs far less maintenance than the use of other pH adjustors. Caustic soda helps to clean lines and increase water flow by sequestering and saponifying lipids and oils.
1-CAUSTIC SODA FLAKES:
The chemical breakdown of sodium chloride produces Caustic Soda Flakes, a white, water-soluble substance. Caustic Soda Flakes are used in the manufacturing of soaps, shampoos, and fatty substances due to their high hydrolyzing capacity. It is known scientifically as sodium hydroxide. The chemical composition of Caustic Soda Flakes has a high alkaline characteristic and is regarded a PH regulator; it may be used to neutralize acids and make various salts.
Caustic Soda Flakes are a concentrated form of sodium hydroxide in liquid form. Caustic Soda Flakes are a kind of ionic salt composed of sodium ions Na+ and hydroxide ions OH- in the form of NaOH. The solution of Caustic Soda Flakes degrades proteins and, as a consequence, produces burns when it comes in touch with bodily tissues. This substance collects moisture and carbon dioxide gas from the surrounding environment and has a high solubility in water. The yearly output of Caustic Soda exceeds tens of millions of tons due to its enormous demand worldwide.
Normal temperature Caustic Soda is a white solid, but when it comes into contact with acids and is diluted in water, an exothermic reaction occurs and a great deal of heat is created. Caustic Soda is frequently used in the soap manufacturing and petrochemical sectors. It is also employed as a metal detector, in chemical processes, to clean cotton, to remove rust from metal, etc.
CAUSTIC SODA FLAKES SPECIFICATIONS
Pure Caustic Soda Flakes are a solid material that resembles colorless crystals quite closely. It melts without decomposition at 318 °C (604 °F) and boils at 388.1 °C. Although this chemical is highly soluble in water, its solubility in polar solvents is much lower (such as ethanol and methanol). (It is important to note that they are insoluble in ether and other non-polar solvents.)
Similar to the hydration of sulfuric acid, the dissolving of solid Caustic Soda Flakes in water is a highly exothermic process that generates a great deal of heat and poses significant safety risks when handling the substance. As with other alkaline solutions, the saponification that happens between the Caustic Soda Flakes and the skin's natural oils makes the resultant solution slippery if it comes into contact with the skin. Its viscosity is inversely proportional to its service temperature, meaning that the rise in viscosity is proportional to the increase in temperature. Applications and storage of Caustic Soda Flakes are directly influenced by their viscosity.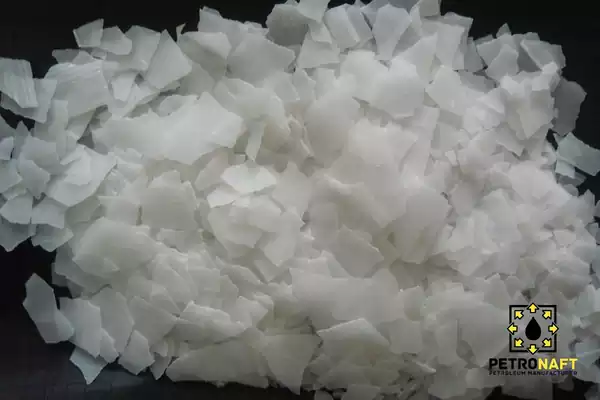 CAUSTIC SODA FLAKES APPLICATIONS
Production of chemicals: Approximately forty percent of Caustic Soda Flakes are utilized as a raw material and foundation for the production of several chemicals in the chemical industry.
Detergent and disinfection goods Caustic Soda Flakes are used to manufacture soap and different detergents with a variety of domestic and industrial uses. The combination of chlorine with Caustic Soda solution produces chlorine bleaching solutions (chlorine-containing bleaches such as sodium hypochlorite or chlorinated water). Pipe unclogging treatments containing Caustic Soda prevent pipes from clogging by transforming potentially clogging fats and oils into water-soluble soapy compounds.
Applications of Caustic Soda Flakes in medicine: Caustic Soda Flakes is employed in the synthesis of several pharmaceutical compounds, ranging from basic pain relievers like aspirin to anticoagulants that prevent blood clots and anti-arteriosclerosis medications.
Pulp and paper production: Pulp generated by the sulfate and sulfite technique is refined by eliminating lignin components using several extraction units of Caustic Soda Liquid. In addition, Caustic Soda Liquid is used in certain paper mills that employ the kraft process. In addition, this chemical compound is utilized in the paper industry to remove ink from recycled paper.
Cellophane and synthetic silk: The viscose method for producing fibers involves Caustic Soda Flakes in two basic phases. Alkaline cellulose is produced by treating cellulose with Caustic Soda Liquid in order to improve its strength and sheen. The resultant cellulose is then dissolved in diluted Caustic Soda Liquid to generate viscose, which is used to extrude rayon fibers and cellophane films.
Applications of Caustic Soda Flakes in the manufacture of aluminum: Aluminum extraction is used to dissolve the raw material for aluminum manufacturing, bauxite ore, and precipitate alumina. Also used for chemically polishing aluminum goods is Caustic Soda.
The fabric: In this business, Caustic Soda Flakes are used for cleaning, bleaching, and improving the fabric's sheen and tensile strength.
Industry of oil production and refining: Caustic Soda is utilized as a carbon dioxide absorber in light cuts and as a sulfide absorber in the purification of oil cuts in the oil production and refining business. In addition, it is employed with chlorine in the hypochlorite sweetening process, which removes different sulfur compounds.
Use in place of Soda ash Caustic Soda Flakes are used in place of Soda ash in a variety of applications in the glass, paper, pulp, phosphate, and silicate industries.
Applications of Caustic Soda Flakes in the food industry: Food manufacturing; sodium hydroxide is used in the manufacture and processing of a variety of food products. To generate crispness in olives or pretzels, Caustic Soda is used in processing olives or making pretzels. For the purpose of canning, Caustic Soda Flakes are used to peel potatoes, tomatoes, and other fruits. In addition, certain foods are treated with Caustic Soda to inhibit the formation of germs and mold.
Water and sewage treatment: Caustic Soda Flakes are used in water and sewage treatment facilities to regulate water acidity and remove heavy metals. Also, Caustic Soda is used in the production of the antiseptic sodium hypochlorite.
Energy: Caustic Soda is employed in fuel cell manufacture. Epoxy resins used in wind turbines are created from Caustic Soda Flakes.
Renewable fuels: Caustic Soda Flakes are used to regulate pH and create sodium methylate in the bioethanol and biodiesel manufacturing process.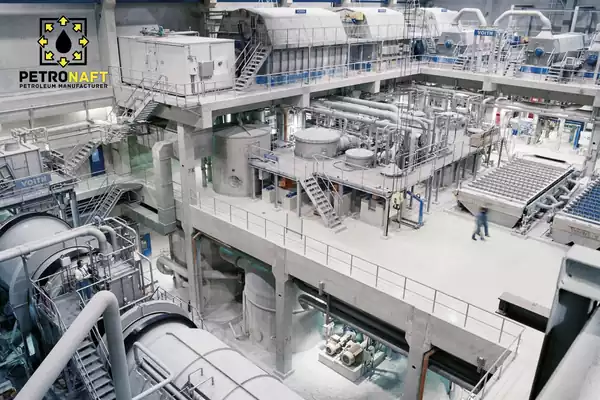 CAUSTIC SODA FLAKES PRODUCTION
Using the hydrolysis of a salt water solution, Caustic Soda Liquid is created in petrochemicals and liquid Soda production units, and while being delivered by special tankers to Caustic Soda Flakes manufacturing units, in special tanks erected inside the unit. The merchandise is discharged. As manufacturing byproducts, units that manufacture Caustic Soda Liquid also generate hydrochloric acid, brine, per chlorine, chlorine gas, and other chemical compounds.
In factories, Caustic Soda Liquid is moved from the main tank to a small air tank before overflowing onto nickel trays and being concentrated at 1400 degrees Celsius from 50% liquid Soda to 98% to 99%. After enough heating, the liquid profit is sent to the cooling drive device and, upon cooling, transforms into thin flakes on the annular wall of the graph. During this procedure, the Caustic Soda Liquid's water is evaporated, resulting in Caustic Soda Flakes with an analysis of 98% to 99%. Immediately after production, Caustic Soda Flakes are placed in 25-kilogram double-layer bags. This avoids the generated product from absorbing moisture and becoming lumpy.
CAUSTIC SODA FLAKES PACKAGING
Caustic Soda Flakes are offered in a variety of packaging options, including double-walled (laminated) bags with extremely acceptable stitching, as well as palletized and ready-to-ship per client request. The packaging of Caustic Soda Flakes is one of the most significant aspects of manufacturing, shipping, and storage. If the Caustic Soda Flakes are packaged in low-quality bags, air and moisture will enter the bag, causing the flakes to clump and stay together. This diminishes the quality of Caustic Soda Flakes to the point where they are unusable.
The packaging for Caustic Soda Flakes:
 Caustic Soda Flakes are packaged in 25-kilogram bags with dimensions of 50 x 80 and a weight of two layers of 60 × 80 grams each. If ordinary thread is used, Caustic Soda Flakes will rot and disintegrate the sewing thread. Therefore, these bags must be sewed using durable polyester thread. As air enters the bags, Caustic Soda Flakes become lumpy, and the combination of air and sodium hydroxide causes the lumpy substance to expand and finally cause the bag to split and disintegrate. Wherever this sort of Caustic Soda is used, safety and health precautions must be maintained to avoid bodily harm. Pay close attention to the safety guidelines for dealing with Caustic Soda Flakes while handling this substance.
Jumbo bag: In this packing, Caustic Soda Flakes are packaged in 40 25 kg bags inside a one-ton bag (jumbo bag). The giant bag is a fantastic protection for preventing probable ripping of the bags due to displacement, and it also prevents direct sunlight and air from penetrating damaged bags.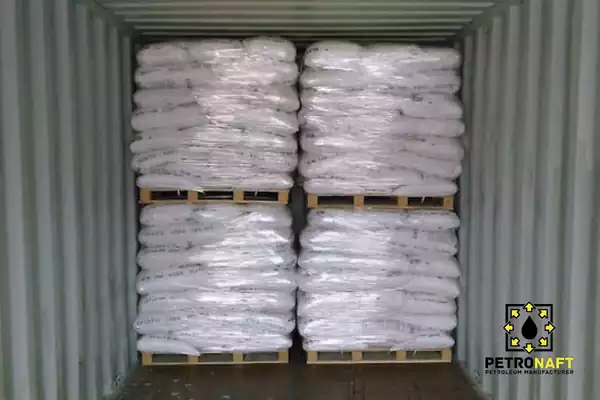 2-CAUSTIC SODA LIQUID:
Sodium hydroxide, sometimes known as Caustic Soda Liquid, is one of the most commonly used bases and a sodium salt. This substance has the chemical formula NaOH and is also known as Caustic Soda Liquid, sodium hydroxide, alkali, alkaline Soda, and sodium hydrate. Caustic Soda Liquid absorbs iron and moisture from the atmosphere, as well as carbon dioxide. The solubility of Caustic Soda Liquid in water, ethanol, glycerol, and methanol is comparable. It should also be mentioned that, due to the rapid absorption of carbon dioxide from the air by this substance, there is a chance of explosive chemical changes occurring in the material during its interaction with carbon dioxide. This normally stable material becomes unstable when heated. When Caustic Soda Liquid comes into touch with the skin, it will have a corrosive impact; thus, the Material Safety Data Sheet (MSDS) must be followed to avoid burns. From solutions of proper composition, sodium hydroxide may be crystallized. Thus, NaOH solutions may be readily cooled to a wide range of temperatures, allowing the formation of hydrates from solutions of varying concentrations. At temperatures over 12.58 °C, however, it often decomposes into solid monohydrate and liquid solution. Unlike most transition metal hydroxides, which are insoluble, sodium hydroxide may be used to precipitate metal hydroxides since it is soluble. At room temperature, a concentrated aqueous solution of 50% sodium hydroxide has an inherent viscosity of 78 mA, which is much more than water (1.0 mA) and olive oil (85 mA). As with other liquid chemical substances, the viscosity of aqueous NaOH is inversely proportional to its service temperature; as the temperature rises, its viscosity reduces, and vice versa. Use and storage of sodium hydroxide solutions are directly affected by their viscosity.
Sodium hydroxide, also known as Caustic Soda Liquid, is a corrosive material that belongs to the family of alkaline substances; hence, specific pipelines and fittings are required for its storage and usage in the manufacturing cycle. Typically, industries use nickel sheet, which has anti-corrosion qualities. To facilitate transport, storage, and application, Caustic Soda Liquid is transformed into Caustic Soda Flakes. Utilizing high-quality Caustic Soda Liquid and modern equipment for the manufacturing of Caustic Soda Flakes from Caustic Soda Liquid results in a product of superior quality and purity.
CAUSTIC SODA LIQUID APPLICATIONS
Caustic soda liquid is used in the manufacturing of paper pulp, aluminum refining, soap, the food sector, water purification, cement, and concrete. Various sectors utilize it as a detergent and industrial grease. Its industrial uses include washing grease, fats, and proteins from tanks and silos, as well as cleaning pipelines and industrial effluent from sediments. It is used to alter the acidity of wells used to extract oil and gas. For basic hydrolysis of esters (such as in soap production), amides, and alkyl halides, sodium hydroxide may be utilized. However, since sodium hydroxide is poorly soluble in organic solvents, potassium hydroxide solution is preferable. Although skin contact with the sodium hydroxide solution is not advised, it generates a slippery sensation. This is caused by the presence of skin oils, such as sebum, which transform into soap. Despite being soluble in propylene glycol, it is unlikely to replace water in soap production owing to the early interaction of propylene glycol with fat, which occurs before the reaction of sodium hydroxide with fat.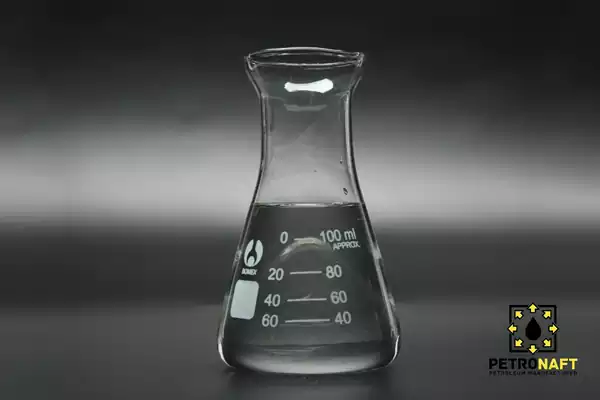 CAUSTIC SODA LIQUID PRODUCTION
Using the chlor-alkali method, 50% Caustic Soda Liquid is produced industrially by electrolyzing sodium chloride salt. In the past, this product was produced by the Causticization reaction of sodium carbonate and hydrated lime with the chemical formula calcium hydroxide. This method was supplanted in the 19th century by the Solvay method, and currently the Chlor-alkali method is utilized. Combining pure sodium metal with water is the scientific method for making Caustic Soda. The United States and China are the world's leading manufacturers of Caustic Soda Liquid. The two industrial procedures utilized by makers of Caustic Soda Liquid to produce sodium hydroxide are:
Diaphragm cell method

Membrane cell method
In the membrane method, which is a novel method for manufacturing Caustic Soda Liquid, a cathode component and an anode component are separated by a membrane inside a single cell. Only sodium ions and a little quantity of water may get through this membrane to the cathode portion. Hydrogen gas is produced and collected as bubbles by the breakdown of water in the cathode portion. The solution of Caustic Soda remains as 30% Caustic Soda Liquid, which may be raised to 50% in subsequent phases. On the other side of the membrane cell, or in the anode, chlorine gas is generated by the breakdown of salt. The membrane cell method for manufacturing 50% Caustic Soda Liquid utilizes the least amount of energy among all industrial processes.
Using a permeable diaphragm, the anode portion is isolated from the cathode portion in the diaphragm method. Concentrated salt water flows from the anode part via the diaphragm to the cathode section. Consequently, the diluted caustic brine is expelled from the cell. In the subsequent procedures, surplus salts may be eliminated to obtain 50 percent Caustic Soda Liquid. In the diaphragm cell method, roughly three tons of steam per ton of Caustic Soda is typically utilized for evaporation. Salt is extracted from caustic brine to raise the product's concentration. Finally, using specialized techniques, the liquids within may be dehydrated to facilitate storage, packaging, and transport. In the form of Soda Flakes, dry Caustic Soda may be created.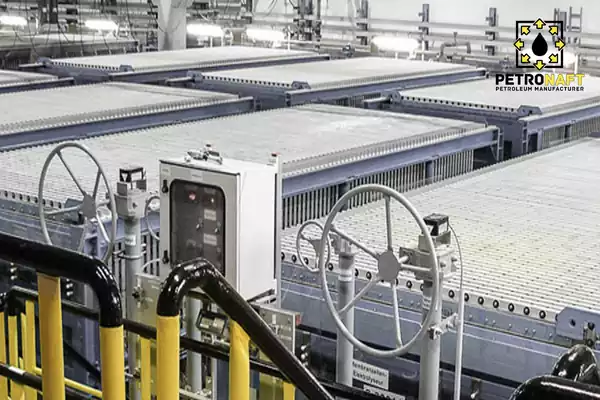 CAUSTIC SODA LIQUID STORAGE
Caustic Soda solution or Caustic Soda Liquid is stable; however, its shelf life is dependent on storage conditions. If this chemical comes into contact with air, the product's quality will degrade over time, as Caustic Soda absorbs liquid carbon dioxide from the surrounding air and forms solid sodium carbonate (Na2CO3) particles. Therefore, contact between Caustic Soda Liquid and air should be kept to a minimum.
CAUSTIC SODA LIQUID PACKING
Almost we provide Caustic Soda Liquid according to customer inquiries. It is capable to pack in IBC Tanks and drums. IBC capacity will be 1000-1200 kg. Drum capacity is 200-220 kg of Caustic Soda lye.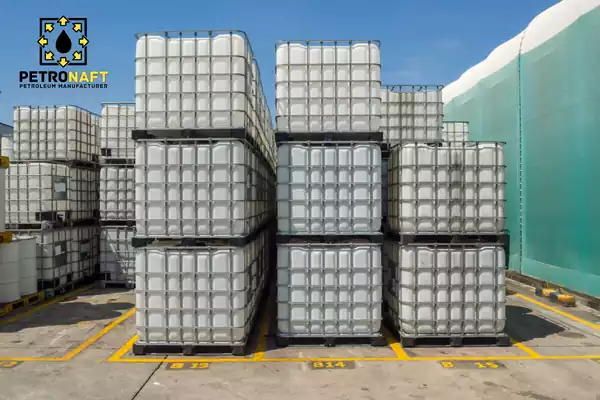 Explore related articles on this product via the tag link below:
Articles Related to Caustic Soda
Petro naft provides Caustic Soda / Sodium Hydroxide of the best quality in a variety of types and grades and exports them from Iran, Turkey, and the United Arab Emirates to other nations worldwide.
Caustic Soda Iran / Sodium Hydroxide Iran
Caustic Soda Turkey / Sodium Hydroxide Turkey
Caustic Soda Emirates / Sodium Hydroxide Emirates
Understanding Iran's Caustic Soda Price: A Must-Read Comprehensive Guide to Improve Your Knowledge
Iranian Caustic Soda Pricing Analysis: Overview
Understanding Global Asphalt Prices: A Must-Read Comprehensive Guide for Better Comprehension
Cost Analysis of Caustic Soda: Overview
For more information, please click on each product listed below.
INTRODUCTION OF CAUSTIC SODA FLAKES Sodium hydroxide, commonly known as Caustic Soda Flakes or NaOH,
Read More »
INTRODUCTION OF CAUSTIC SODA LIQUID Caustic Soda Liquid is an important and versatile chemical that
Read More »
Frequently Asked Questions About CAUSTIC SODA